BY: ISAAC DEHAAN
Wow, it is hard to believe that the holiday season has passed us by and a new year has poked its head over the horizon. Hopefully it was a good holiday time for everyone. I thought I would do something a little different for the first column of 2008, a racer profile. We all see the names and hometowns of racers in the results section, but unless you know the person from racing at your particular track, you may have no idea what they are like. I am going to try and put some names, faces, and race cars together for this. If the response is positive, I may try it again in the coming months.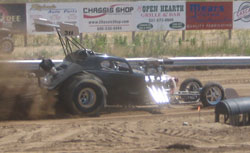 Our first victims, I mean racing celebrities, are Troy and Dawn Turnock. The Turnock's are from Edwardsburg, MI which is just inside Michigan on the IN/MI state line near Elkhart, IN. Troy and Dawn started racing at West Michigan Sand Dragway in the late '90s with a jeep, with Troy moving up to an altered, then the "Monster Dawg" funny jeep, and finally his current ride a '48 Fiat competing in the Top Eliminator class (3.00 breakout). Dawn moved up from the modified class, running the jeep, to her own '48 Fiat running in the Pro Index class.

Quick specs for Troy's car:
Chassis: "Troy Built" 135" Chromoly funny car style chassis with '48 Fiat body
Engine: Jim Oddy 509 cubic inch, New Century block, Callies crank, GRP aluminum rods, Dart 14 Degree Big Chief Heads with a 14-71 Littlefield blower up top.
Driveline: Lencodrive transmission with a Neal Chance bolt together converter, Mark Williams rear housing, center section, brakes, and axles with 4.30 gear.
Wheels & Tires: Goodyear front runners up front and aluminum spindle mounted wheels; rears are 36" Goodyear casings with super scoops on aluminum wheels.
Best E.T. & MPH 2.90 @ 120mph Primm, NV Fall 2006.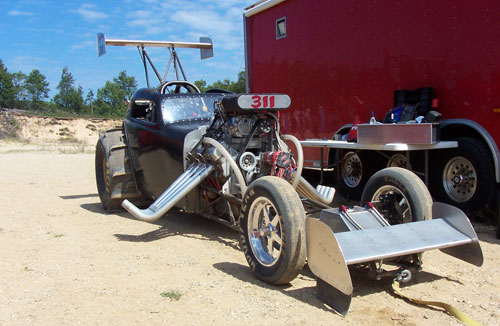 One of the things I like the best about Troy's car is the fact that it is all business. I know it doesn't have fancy paint or cool graphics, but believe me, this is one bad to the bone hot rod. If you don't believe me, just ask the rest of the Top Eliminator class at WMSD. Troy laid waste to the class this summer, winning 7 TE races in a row and a total of 9 out of 11 races total in the Top Eliminator class as well as one win in the Pro Index class and a Top Alcohol class win at Albright Shores in MI. When asked about his biggest win of the summer Troy said, "The U.S. Sand Nationals without a doubt. Broke the chassis in one of the qualifying rounds and never made a full pass the rest of the day. Best E.T. was a 6.04 (3.00 Index class) and still took the class win." Definitely a case of rather be lucky than good!! Troy also won the Top Eliminator class in Primm, NV in the fall of '06, but the 2007 fall Primm race resulted in a stuck valve on the first qualifying shot and no eliminations. Still, Troy had one of the best years from a pure racing standpoint that I have ever witnessed. I have never seen anyone flat out dominate a class like Troy did this summer.

Quick specs for Dawn's car:
Chassis: Mark Williams altered chassis with '48 Fiat body
Engine: "Troy Built" 565 cu inch, Merlin block, Callies crank, BME aluminum rods, Brodix heads with a 10-71 Littlefield blower up top.
Wheels & Tires: Goodyear front runners up front and Goodyear 36" casings with super scoops out back with aluminum rims on all four.
Best E.T. & MPH: 3.38 @ 99mph WMSD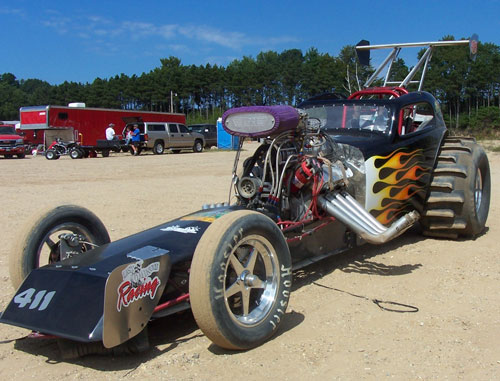 Don't think for a second that Dawn is a pretty face that is on tow vehicle duty on race day, she's not afraid to mix it up with anyone out on the track. Her Fiat is almost identical to Troy's car in construction, and since she had hers first, I guess Troy copied his wife! Dawn is an excellent racer, cutting her teeth in the Modified, Comp, and Pro Comp classes before adding the blower and moving up to Pro Index in 2007. In only her third race in Pro Index this year, she picked up the class win. That was a short learning curve, and Pro Index is not some entry level class by any means. Although some health issues sidelined her for most of the summer, Dawn is one to watch in the Pro Index class for 2008.

In case that's not enough for you, consider this, Troy and Dawn's son, Cody won the Jr. ATV class this summer at WMSD, after a third place point series finish in 2006. There is an apple that did not get far from the tree! This is truly a family that has racing in their blood.

The best thing about the Turnock's, in my opinion, is the fact they are not only good racers but great people as well. Troy has a laugh that can make anybody smile and their pit area is the "fun spot" to hang out. They have the same race day attitude whether things are going just as planned or completely off track. Sand drag racing is surely better off with more people like Troy and Dawn involved in our sport. I know the Turnock's want to thank Sam and Kristy Whitten as well as sponsors David Allen Racing, Morse Metal Fab, and Sully's Restaurant for their help.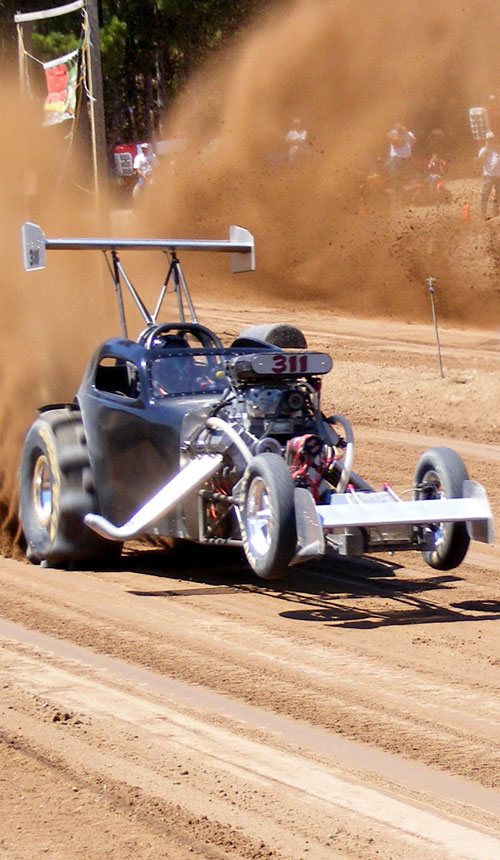 That's all I have this month, but some exciting things are coming up. I'm off to Yuma, AZ for the NSDA race next weekend. Also, I'm going to try and attend the Charlevoix Snow Challenge Hill Climb in February. I also have some more things coming up for this column. Let me know what you think, feedback of any kind is always appreciated. Until next time, see you in the staging lanes!

Isaac DeHaan (This email address is being protected from spambots. You need JavaScript enabled to view it.)

Photos Courtesy Dawn Sobers, Isaac DeHaan, and NSDN.