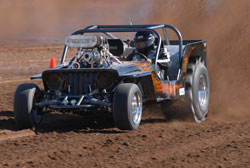 The 2008 NSDA season is now underway after a record setting season opener at the Cocopah Casino in Yuma, AZ. Here is our first look back at the wildly successful event in Yuma with a small sampling of pictures courtesy of C3 Productions. To purchase any of these photos, contact C3 Productions through their web site,
www.c3productions.net
.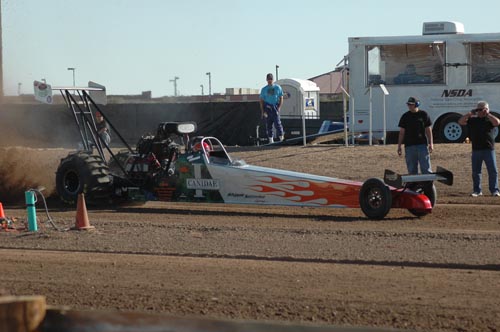 Mike DeNunzio got off to a fast start in '08 running his best ever E.T. with a 2.52 and taking home a runner-up finish in Top Alcohol.


Wes Johnson took home the Pro 2 class win in Yuma.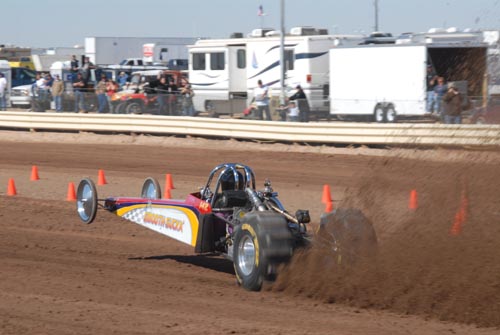 Steve Hoffman drove his "Smooth Sucka" Dragster to the Top Eliminator class win.


Dan Allen stole the show on the weekend setting a new TA class record with a 2.411, running all 5 passes under the old record with the slowest being 2.44, and taking the TA class victory for the weekend.


Tommy Beck lowered his A/Pro Jeep record at Yuma with a 3.167 being his best E.T.


Francisco Anaya drove his roadster to the Pro Mod class victory running a best of 3.36 in Pro Mod trim.


Mike Erwin gave us a good example of the traction at Yuma with his TE Dragster.


Scott Whipple won the Top Fuel class and ran Low E.T. of TF for the weekend in Yuma with a 2.35.


Shane Sanford shows us another example of the traction in Yuma doing a great job of driving out of this wheelstand after a quick pedal job on Saturday.


All photos courtesy C3 Productions -
www.c3productions.net
.