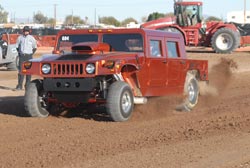 Race Recap
The 2008 sand drag racing season kicked off with NSDA's season opener and Inaugural event at the Cocopah Casino in Yuma, AZ. An exceptional racing surface prepared by the NSDA track crew and cool weather conditions led to some history making passes and all around exceptional racing.

Top Fuel

Four cars showed up to compete at the NSDA season opener in the Top Fuel class. Round one of qualifying led off with Jeff Janoe in his JWJ dragster laying down a stout 2.394 pass at 147mph. Jeff carried a monster wheelie through the finish line resulting in tweaking the front end of the chassis. The JWJ crew worked hard through the night, and was able to make the first qualifying shot on Saturday. Scott Whipple and Dennis Rieck were the next pair up. Scott laid down a 2.434 pass while Dennis trailed fire from about 100' on coasting to the finish line with a 2.497. The Hammer Down crew would have a lot of work ahead of them, but would be back later in the weekend. The night session on Friday would see Whipple lay down another solid pass with a 2.461 while Rick Cameron stole the show in the opposite lane. Cameron launched into a huge wheel stand forcing him to lift just in time to avoid a blow over situation; the car would land hard and cause chassis damage sidelining him for the weekend.

Saturday's first session started off with Janoe returning and laying down a solid 2.476 while Whipple lifted early to a 2.592. Heading into the final session, Janoe's 2.39 led the pack. Janoe and Whipple would start off the final session with a beautiful side by side pass. Scott took over the top spot in the Canidae dragster with a 2.356 at 159mph run. Janoe was no slouch in the other lane carding a 2.426. Dennis Rieck and the Hammer Down team would finish off qualifying with a planned half pass of 2.850 at only 80mph, which showed they were ready for race day.

Eliminations started off with a single for Scott Whipple as Cameron was unable to return. Scott had a stout run going before he had to lift just before half track as he headed for the center line, coasting to a 2.809. The next pass was the anticipated match up between Rieck and Janoe. Jeff was able to pull a huge hole shot on Dennis and barely held off the small block for a 2.479-2.364 victory. This would set up a huge final round between the Canidae and JWJ dragsters. This anticipated match up was unable to happen as Janoe suffered severe engine damage in the semi-final round putting him out for the final handing Whipple a single run for the victory. Scott did not take it easy with a pretty pass in the final despite some staging issues relegating him to a 2.590 E.T. The 2008 season started with the '07 champ staying on top of the points with Janoe and Rieck showing they have the potential to make it a great championship battle.



Scott Whipple



Jeff Janoe
Top Alcohol
The Top Alcohol class put on an exciting show in Yuma with most of the competitors recording all time best E.T.'s and a new National record being set. Top Alcohol qualifying heated up in the second session with Dan Allen laying down a stunning 2.441 pass at 149mph to take the top qualifying spot. Allen's run beat the old class E.T. record by .05. Shane Sanford and Mike DeNunzio both recorded shout 2.55's, but were still a whole tenth behind Allen's run. The question heading into Saturday was can Allen back up the record. Allen answered by lowering the record even further to a 2.411 in Saturday's opening session. This would lead up to a great final qualifying session for the Top Alky dragsters. The round started off with Mike DeNunzio record a career-best 2.524 pass to take the #2 spot for the moment, however Dan Allen was in the other lane and continued his tear through the field with a 2.412 which would serve as the official back up for the record. In the final pass of qualifying, Shane Sanford made a nice wheels up lanuch en route to a 2.511 run which bypassed DeNunzio for the #2 spot while Gary Mink recorded a great 2.542 which would only place him fourth in the incredibly quick field.
Eliminations started off with Dan Allen in the Lucas Oil dragster facing off with Gary Mink in the Bad to the Bone dragster. This was a battle between the 2 and 3 finishers in 2007 NSDA points. Mink would take a .015-.172 starting line advantage, however Allen would drive past at the finish line taking a .011 margin of victory in a 2.449 to 2.617 decision. The next pair would see the two closest qualifiers meet up with Shane Sanford barely missing the tree with a .002 red light handing the win to DeNunzio's 2.572 with a stellar .038 RT. Allen had the E.T. advantage heading into the final round and he kept up his torrid pace with a 2.429 to outpace Mike DeNunzio's consistent 2.574. Allen ended up with all five of his passes on the weekend being quicker than the previous National record. Allen Racing looks like it will be tough to stop in 2008, however it's for certain that Frederosa Racing, Canidae Racing, Bad to the Bone, and the rest of the TA class won't give up on the championship race without a fight throughout the season.



Dan Allen



Mike DeNunzio

Top Eliminator
The Top Eliminator class found the fast Yuma track difficult to tune to the 2.95 Index in early qualifying sessions as breakouts were abundant. However, as the weekend progressed most of the teams were able to tune their cars in, including the Smooth Sucka team with Steve Hoffman taking the top qualifying spot with a 2.958 E.T. Tim Martin would follow in the second spot with a 2.961. Round one of eliminations would see a huge upset as 2007 champion DL King red lighted by .018 allowing Paul Taylor to move on to round two.

Taylor would face off in round two with 2007 TE championship runner-up Jeff Mamer. Mamer would come out on the winning end of a double break out with a 2.949 to Taylor's way too fast 2.739. The rest of the top four qualifiers Steve Hoffman, Tim Martin, and Leon Januik would also advance to the semi-final round. The first pair of the semi-final round saw Steve Hoffman take an extremely close victory over Jeff Mamer on a hole shot 2.993 to 2.963. Hoffman's margin of victory was .006 in that race. The next pair would see Leon Januik chop down the tree with a .041 RT to defeat Tim Martin 2.999 to 2.947. This would set up a final round between the number one and three qualifiers. Januik took a slight .064 to .076 starting line advantage; however the four-cylinder Smooth Sucka dragster drove around the V-8 Altered for the victory 3.000 to 3.021 for a .009 margin of victory. Hoffman should definitely be a contender in 2008 at all events he shows up at.



Steve Hoffman



Leon Januik
Pro 1

Keith Ahart and the Sudden Urge dragster took the Pro 1 class to school en route to the season opening victory in Pro 1. Keith's worst RT in eliminations up until the final round was a .046 in a round one defeat over Carl Jennings. He would advance to the final round with a semi-final victory over Tommy Zavala. Keith faced off with Craig Durning in "Eugene the Jeep" in the final round. Ahart took a .073 to .089 advantage at the tree and ran a 3.391 (3.38) for the win.



Keith Ahart



Craig Durning

Pro 2

Wes Johnson jumped out to a fast start in Pro 2 with a win at the season opener. Wes defeated 2007 championship runner-up Steve Anthony in round one, and ended up in the final round with a semi-final double breakout defeat of Tommy Zavala. Wes would face off with Hunter Buettner in an all-Jeep final round. Hunter ended up with a breakout by .004 handing the win to Wes' Ford-powered Jeep.



Wes Johnson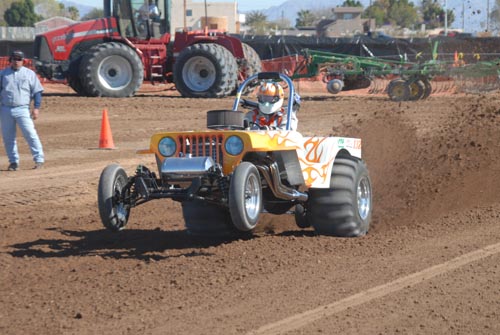 Hunter Buettner
Pro 3

Charlie Johnson started off the 2008 season in a big way with a win in Pro 3 at Yuma. Charlie raced his way into the final round with a semi-final defeat of Joey Weaver while his final round opponent Jose Beas defeated 2007 Pro 3 champion Grant Fraysier in the same round. The final round saw Charlie jump out to a starting line advantage .036 to .083 and never look back. It's pretty safe to say that Charlie will be a threat for the 2008 Pro 3 championship.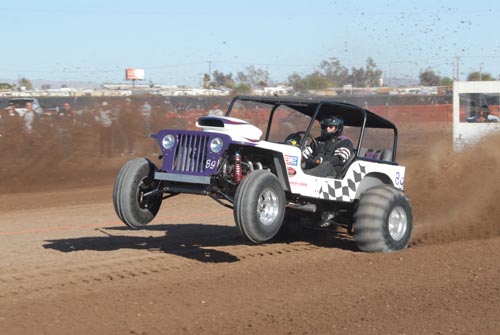 Charlie Johnson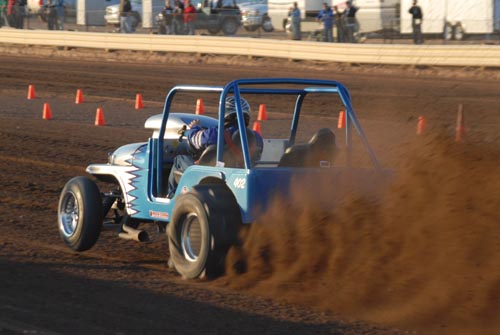 Jose Beas

MC Pro 1

Ryan Winkle was the man to beat in MC Pro 1 and took home the season opening class victory. Ryan Winkle would take a single in to the final round when Chad Peterson could not return after a nasty spill in a round two victory. Ryan would meet up with Brad Olson in the final round. Olson would take a .032 to .148 starting line advantage, but would break out 4.196 (4.25) to give the victory to Winkle.



Ryan Winkle

MC Pro 2
MC Pro 2 was won at the NSDA season opener by Rob Winkle. Winkle was able to defeat Shay Marlow in the final round for the race win.

Pro Mod
Mike Erwin was the low qualifier in a tough Pro Mod field with a 3.49. Erwin would defeat Wes Gilmore in round one while the second pair saw a huge match up between Francisco Anaya's roadster and 2007 Pro Mod champion Geoff Gill. Gill struggled throughout qualifying with handling issues and these problems would bit him again losing a 3.369-3.547 decision against Anaya. This would set up a final between Erwin's Jeep and Anaya's roadster. The roadster would stay undefeated in Pro Mod action with a 3.372 to 3.512 victory.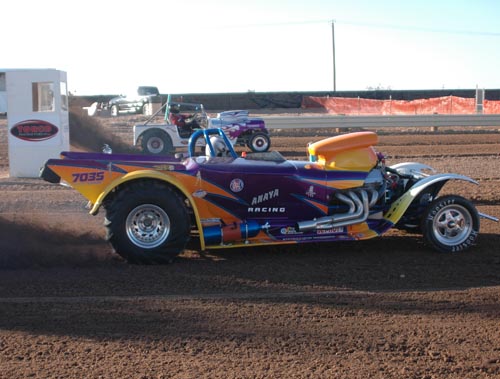 Francisco Anaya (Near Lane) and Mike Erwin (Far Lane)

Pro Index

Pro 3 winner Wes Johnson was the number one qualifier in Pro Index with a 3.961. 2007 Pro Index champ Justin Adamson would take care of Johnson in round two. Adamson would move on to the semi-final round where Clayton Record would put up a great run 3.959 (3.95) and .027 RT for the victory. Clayton moved on to the final round to face off with Wes Gilmore. Gilmore suffered some mechanical problems allowing Record to take a relatively easy final round victory.


Sportsman 1
2007 Sportsman 1 championship runner-up Larry Brown started his drive to move up to the top spot with a season opening win in Yuma. Brown breezed through eliminations and earned a bye run into the final round where he would face off with Pro Index winner Clayton Record. Record defeated Pro 2 runner-up Hunter Buettner in the semi-final round. Brown took a huge .119 to .358 hole shot advantage and took the win with a 3.762 (3.70).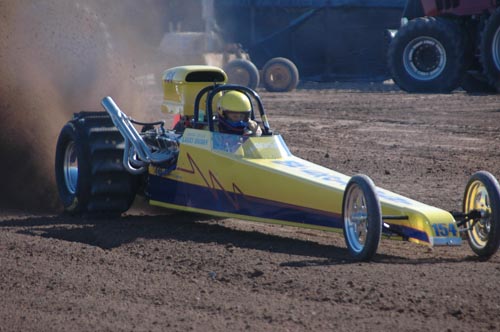 Larry Brown

Sportsman 2
Like Larry Brown, Nick Young was the runner-up in his class in 2007 and was able to take home the season opener in Sportsman 2 at the 2008 NSDA season opener. Nick was able to get by Lara Wright, who had a staging foul, in the semi-final round. In the final, Young took over a two tenths of a second advantage on the tree over Manuel Casas and ran 4.916 (4.74) for the Sportsman 2 victory.



Nick Young

MC Sportsman 1
Mike Brock drove through the MC Sport 1 class to take the victory in Yuma. Brock defeated MC Pro 1 winner Ryan Winkle in the semi-final round to face off with Pedro Villa Jr. Mike cut a .102 light and ran 3.617 (3.60) for the final round victory.



Mike Brock

MC Sportsman 2

Pedro Villa Jr. came back after his final round loss in MC Sport 1 to take the MC Sport 2 title. Pedro defeated Shay Marlow in the final round.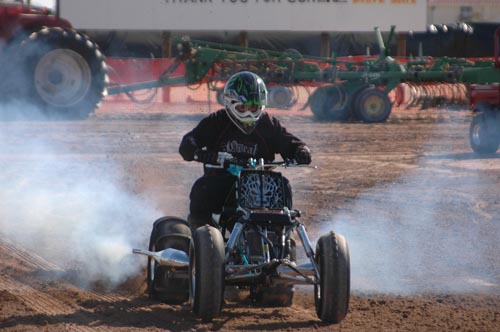 Pedro Villa Jr.

Pro Bonus

Dave Stidham was the Pro Bonus winner on Friday in Yuma. Stidham faced off with Pro 3 winner Charlie Johnson in the final round race. Charlie took a .081-.116 advantage, however Dave ran closer to his dial with a 3.662 (3.60) for the win.


Dave Stidham

Sportsman Bonus

The Sportsman Bonus race was won by Tom Cox in his VW Buggy. Cox defeated Pro Index winner Clayton Record in the final with a .047 RT and 6.021 (5.89).


Tom Cox

Photos Copyright C3 Productions – www.c3productions.net .