Race Recap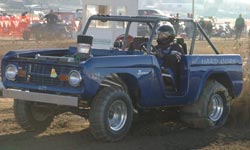 The Soboba Casino in San Jacinto, CA hosted the second event of NSDA's 2008 Season February 15-17. This event featured a huge $8,000 first place payout in Top Fuel, amping up the excitement within the class all weekend long. In the rest of the classes, racers raced to win and take advantage of early season points earning opportunities. Several racers used the event to emerge as point series championship contenders. Let's take a look at how the action went down.
Top Fuel

A stout Top Fuel field showed up at Soboba vying for a total of $8,000 going to the winner. The $5,000 bonus was sponsored by Larry Minor. Qualifying for this tough field was topped by 2007 NSDA TF champion Scott Whipple, who turned a 2.372 lap. Dennis Rieck struggled with engine problems early in the weekend; however he recovered to pick up the #2 spot with a 2.478 on his only qualifying pass in the final session. Shane Switzer and the Spooky II car ended up third with a 2.519 while Keith Longerot put the Two Shy entry fourth with a 2.540.

Round one started off with Scott Whipple setting Low E.T. of the round with a 2.409 pass on a single run. Dennis Rieck brought out the Hammer Down dragster on another single and proceeded to shed several scoops off of his Bigger Diggers on a 2.885 early shut off run. In the next pair, Longerot ran his quickest pass of the weekend to defeat Jeff Janoe's JWJ dragster, running a 2.51 to defeat Jeff's 2.73. The final pair of the round saw Matt Ludlow take his Coldwater Kid dragster to an upset win over number three qualifier Shane Switzer 2.65 to 2.75. This would set up semi-final match ups of Whipple vs. Longerot and Rieck vs. Ludlow.

A titanic Top Fuel pairing led off the semi-final round with Scott Whipple's Canidae team facing off with Keith Longerot's Two Shy crew. The race was decided on the starting line as Longerot red lighted and then proceeded to break about 60' off of the line. Whipple cruised down the track for the win with Low E.T. of the weekend with a 2.364. The second pair of the round saw Ludlow continue to impress with a huge win over 2007 TF Championship runner-up Dennis Rieck 2.590 to 2.612. Ludlow gained a starting line advantage on that run with an impressive .028 RT to Dennis' .092. This set up a great final round race between Whipple and Ludlow. The final round was a great race as Ludlow took a slight starting line advantage, but could not fend off the power of Whipple's Amos Saterlee-tuned dragster which ran a 2.447 to Ludlow's 2.556. This gave Whipple the $8,000 first place prize, back-to-back NSDA event wins, his fourth NSDA TF event win, and a nice early season lead in NSDA's TF point series. Whipple leads Dennis Rieck by 43 points with Jeff Janoe only 2 more points back in third place.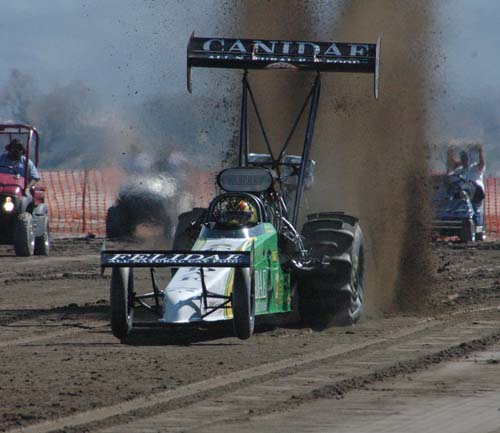 Scott Whipple



Matt Ludlow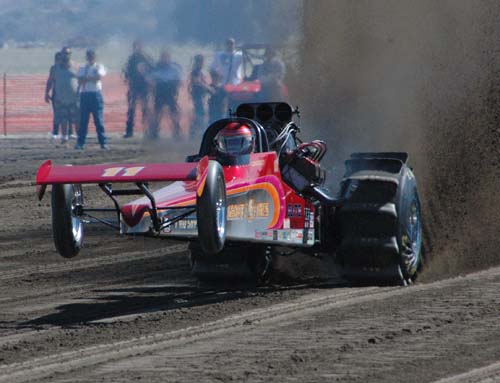 Keith Longerot



Dennis Rieck

Top Alcohol

The Top Alcohol category was dominated by Dan Allen's Lucas Oil dragster in Yuma, and they were the odds on favorite heading into NSDA's second event of the season. Qualifying showed that the Allen team was human as they did miss the tune up a couple times, but did lay down a great 2.635 to take the number two qualifying spot heading into race day. The car that led the field into Sunday was Richard Montiel's Top Dog dragster, who laid down a very impressive 2.532. Mike DeNunzio and David Morton rounded out the top half of the Top Alcohol field in the third and fourth spots respectively. Another big story in qualifying was 2007 NSDA Top Alcohol champion Shane Sanford struggling with parts damage and ending up number eight on the qualifying sheet with a 2.803.

First round kicked off with a huge match up between low qualifier Montiel and 2007 champion Sanford with his Frederosa Racing/Red Bull dragster. Sanford's team kicked its qualifying gremlins and laid down a great 2.62, however Montiel would lay down low E.T. of eliminations with a 2.59 in the other lane to take the win. The win would be bitter sweet for Montiel as parts breakage on that pass would take him out for the weekend. Up next was number five qualifier Gary Mink getting a single run as David Morton could not make the call. Mink laid down a nice 2.65, which proved they may have sorted out some of the gremlins that have troubled them through the second half of 2007 and early 2008. The next car to roll out was point leader Dan Allen with the Lucas Oil dragster. Dan shook the tires violently on a 2.74 single run after Pedro Villa could not get his dragster to start. The final pair of the round saw a pair of cars who have greatly stepped up their programs in 2008, Mike DeNunzio's Canidae dragster vs. Jim Hammond's April's Dream entry. Both cars fell off their qualifying pace, but Mike DeNunzio took the win with a 2.70 to Hammond's 2.90.

The semi-final round started off with an exciting match up between the Canidae and Lucas Oil dragsters of Mike DeNunzio and Dan Allen. Both drivers were even off the line, but it was DeNunzio taking the win with a 2.631 to Allen's 2.706. DeNunzio would face Gary Mink in the final round, who would receive a single as Montiel's breakage put him out. Mink gained lane choice for the final in his "Bad to the Bone" dragster with an excellent 2.630. In the final round, Gary would double-step it on the line red lighting his chance away at the victory while Mike DeNunzio drove to a 2.662 for the race victory. This was Mike's first win of the season, and his second NSDA TA victory (his first came in Primm – April 2007). Heading into the NSDA's third event of the season, DeNunzio has a 7 point advantage over second place Dan Allen with Gary Mink only 16 more points back.



Mike DeNunzio



Gary Mink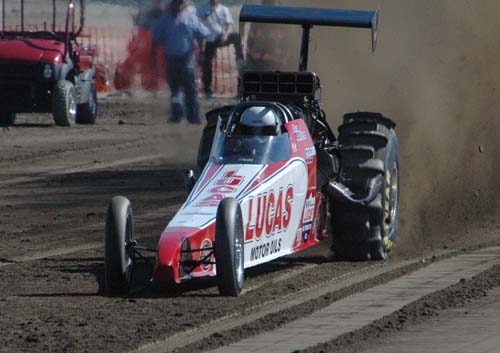 Dan Allen



Richard Montiel

Top Eliminator

The Top Eliminator category kicked off 2008 with a highly competitive class in Yuma seeing Steve Hoffman driving his Smooth Sucka dragster to the final round win. Qualifying at Soboba was also very competitive with 2007 NSDA TE Champion DL King taking the top spot with a 2.966 (2.95 Index). To show how close this field was, a 3.05 (.1 off of the Index) was only good enough for the number 11 qualifying position.

Round one kicked off with the champ DL King taking a win over Dan Cronin. Tim Martin advanced over Don Diffenbaugh in an extremely close race. Steve Hoffman continued his winning ways with a round one victory over Larry Snow while Chris Adamson won tight race over Paul Graham 3.00 to 3.04. Number two qualifier Paul Taylor defeated Mark Punos with a 2.90 over Punos' red light. Pete Schenk red lighted away his chance against Taylor Brewer. Number three qualifier Billy Morris ended a great debut weekend with a 2.909 break out against Ralph Switzer. 2007 NSDA TE Runner-Up Jeff Mamer defeated Terry Crawford 3.011 to 3.009.

The second round started off with Tim Martin laying down a great 3.03 pass to defeat 2007 champ DL King. Steve Hoffman cut a killer .023 RT to dispose of Chris Adamson. Paul Taylor went .019 red handing the win to Taylor Brewer. Ralph Switzer left before the tree was activated against Jeff Mamer's Sidewinder.

Tim Martin faced off with Steve Hoffman's Smooth Sucka to start the semi-final round. Tim ran a great 2.966, however Steve's hole shot advantage and 3.005 took the win. Steve would face Jeff Mamer in the final, who defeated Taylor Brewer with a .077 and 3.04. The final round was a repeat of the semi-final race in Yuma, where Smooth Sucka took the win over Sidewinder. Hoffman would repeat and take home the win with a 2.969 to Mamer's 3.001. Mamer did have the RT advantage .061 to .087, making it a .006 Margin of Victory for Hoffman. This was Hoffman's second victory of 2008 and third overall NSDA TE victory. Hoffman holds a 35 point advantage over Jeff Mamer with Tim Martin another 10 points back.



Steve Hoffman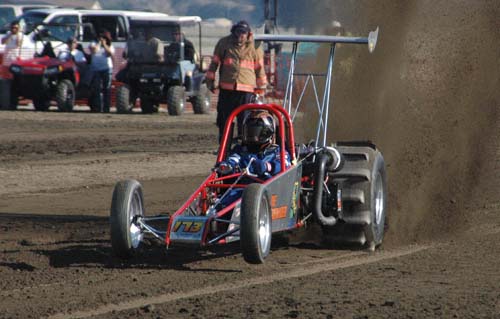 Jeff Mamer



Tim Martin



DL King
Pro 1

The 2008 season in Pro 1 is shaping up to be one of the most competitive ever. 2007 champion Geoff Gill did not come back to defend his title so it is wide open to the rest of the competition. Craig Durning took the early season lead with his win in Yuma; however Soboba would not be as nice to him as he was defeated in round two by Carl Smith. Carl Smith, in his first race back after taking most of 2007 off, advanced to the semi-final round where he would face off with "Wild Willie" Bill Swim who was making his first appearance since early 2007 also. Swim would red light away his chance at the final and give Smith a chance at the victory in his "Cha Ching" blown dragster. The other semi-final pairing saw Mike Gazzeny force Mike Kelly into a 3.687 (3.70) to advance into his first ever final round. Gazzeny would cut a killer .015 RT in the final round and run 3.644 (3.60) to take his first Pro 1 event win over Carl Smith. Gazzeny's win moved him into second place in points, only 11 points behind Yuma winner Craig Durning. Mike Erwin currently sits third in points, 31 behind the leader.



Mike Gazzeny



Carl Smith (Near Lane) in the Pro 1 Final vs. Mike Gazzeny (Far Lane)

Pro 2

Some new contenders have risen to the top of Pro 2 in 2008. With 2007 Pro 2 champion David Cox sidelined for the early part of the season, Wes Johnson has taken over as the man atop the class standings. Wes started out with a decisive win from the number one qualifying spot in Yuma. He then moved on to Soboba where he reached the quarter-final round where Nick Schulzman in the "Altered Ego" altered ran 4.106 (4.09) with a .016 to take the round win. Nick then continued with a solid 4.093 (4.09) and .041 to defeat the always tough Charlie Johnson in the semi-final round. Tracy Malan and his altered received a bye run into the final round to face Schulzman. The final round was decided at the top end of the track on a double breakout as Malan ran closer to his dial with a 3.780 (3.80) to Schulzman's 4.044 (4.07). This was Malan's second NSDA Soboba Pro 2 victory, with his other win coming one year ago in February. Nick Schulzman's runner-up finish moved him into second place in points behind Charlie Johnson. Hunter Buettner currently sites third in the class point standings.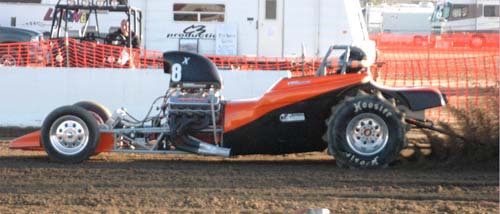 Tracy Malan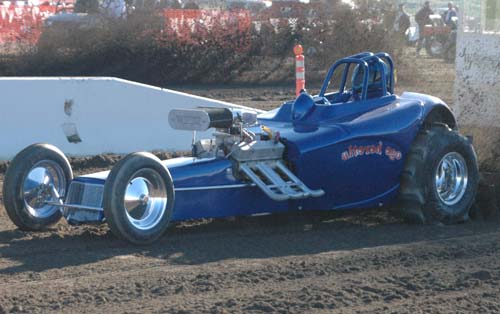 Nick Schulzman

Pro 3

The competition has certainly ratcheted up in 2008 for the Pro 3 class with several new contenders and a mix of last year's favorites going at it for the season championship. 2007 Pro 3 champion Grant Fraysier started off the season with a solid semi-final finish in Yuma. He would put up a good effort at Soboba and turn in a second round finish, falling to Jeff Adamson who ran closer to his dial. The season opener winner in Yuma Charlie Johnson also fell in round two; Nick Young took the victory over Charlie by .016. Nick would move on and advance to the final round after defeating a red lighting April Elliott in the semi-final round. On the other side of the ladder, Steve Bertram went .204 red handing Kevin Williams a trip to the final round in his Jeep. This set up a match up between Nick Young's Truck and Kevin Williams's Jeep. Nick would take a .043 to .095 starting line advantage in the final round, and took the win in a double break out decision as he ran a 4.879 (4.90) to 5.126 (5.17). Nick's win moved him into a tie for second place with 2007 champ Grant Fraysier, only 14 points behind leader Charlie Johnson.



Nick Young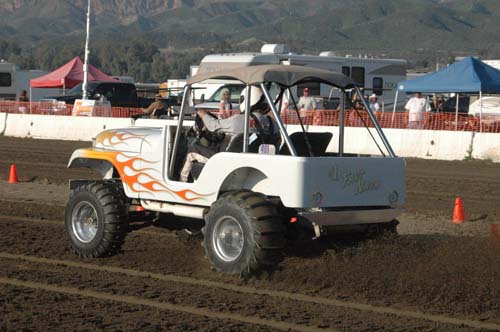 Kevin Williams

MC Pro 1

The 2007 season in MC Pro 1 was dominated by Ian Brown two wins and two runner-ups on the season. This season hasn't gone as well for Brown as he has had unfortunate luck in the first round at the season's first two races. Taking advantage of Brown's trouble has been Brad Olson and Ryan Winkle. Ryan took the season's first win over Brad in the final round. The February Soboba event saw them face off in the final round once again, however the outcome would be different this time. Winkle would take a .032 to .075 starting line advantage, but at the big end he would break out be a slim margin 3.947 (3.95) handing Olson the win. This was Olson's first win of the season, and third total NSDA MC Pro 1 victory. Olson now leads Winkle by 7 points with '07 champ Ian Brown sitting third.



Brad Olson

MC Pro 2

Rob Winkle has been dominant in early 2008 as he has won the first two races of the new season in MC Pro 2. Rob started out the season with a win from the number one qualifying spot in Yuma. He then went on to Soboba where he advanced through the early rounds to defeat Jake Russell in the semi-final round, who red lighted by .002. Rob would face off with Joey Weaver who defeated Steve Lackey in other semi-final match. The final saw Rob be the benefactor of some serious luck as Joey took a starting line advantage .063 to .109, however Weaver would run under with a 5.928 (6.00) to give Winkle back-to-back wins. The win gives Winkle a 48 point lead over George Amos heading into the third race of the season.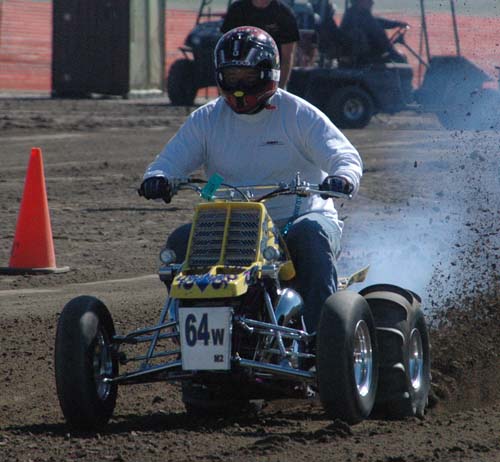 Rob Winkle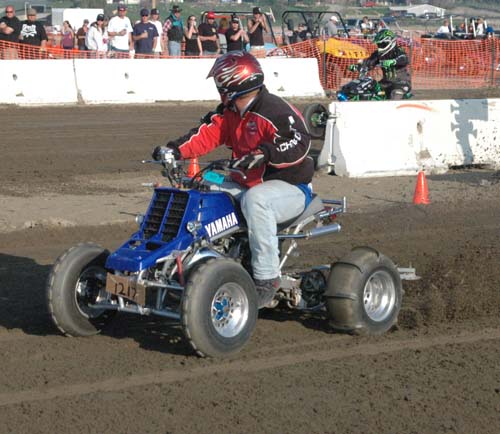 Joey Weaver

Pro Mod

The Pro Mod class had a different look to it at Soboba with 2007 champ Geoff Gill forcing to withdraw after body damage on Friday and Yuma winner Francisco Anaya not attending this event. This opened things up for Mike Erwin to take the #1 qualifying spot with a 3.55. Mike was followed closely by Clayton Record's new Jeep with a 3.58. A big first round match up saw Clayton Record take on Larry Minor with Record taking the win after a lengthy hole shot and 3.56 to Minor's 3.58. Clayton would move on to face Mike Erwin in the final round. Clayton cut down the tree with a .006 to Mike's .061; however Mike would out run him with a 3.63 to 3.80 for the Pro Mod class win. This was Mike's first NSDA Pro Mod class win and puts him into a huge point lead of 111 over Anaya.



Mike Erwin



Clayton Record
Pro Index

The 2008 season in Pro Index is shaping up to be a shoot out as most of the 2007 contenders are back along with a few different faces aiming for the title. 2007 Champion Justin Adamson started off his season with a semi-final finish at Yuma, and looked good before Charlie Johnson put a .017 and 3.996 (3.95) in round two at Soboba.

Charlie's win over Justin gave him a bye run into the final round. Wes Johnson took on Jose Beas in the other semi-final pair with Wes taking the win 4.071 (3.95) to set up a final between brothers. The bragging rights ended up going to Wes as Charlie broke out with a 3.917 (3.95). Wes' win gave him a 16 point lead over Charlie with 2007 champ Justin Adamson another 10 points back.



Wes Johnson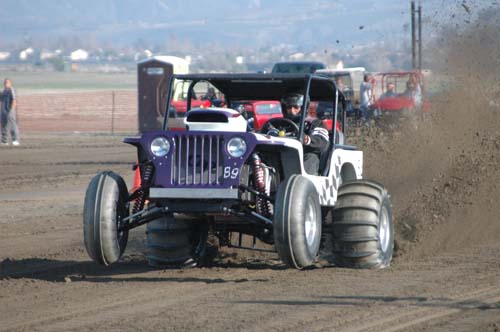 Charlie Johnson
Sportsman 1

The Sportsman 1 class was one of the most competitive NSDA classes in 2007 with an extremely points chase heading all the way to the final race of the season. The 2008 season in Sportsman 1 looks to be shaping up the same way. 2007 class runner-up Larry Brown started off the season with a big win in Yuma; however he encountered some bad luck and lost to Ken Agnew in round one at Soboba. He would still leave Soboba only 19 points out of first in the fourth position. Phil Soper ended 2007 on a high note winning the season finale at Soboba and followed that up with a second round finish at Yuma to start the new season. Phil advanced to the final round at this Soboba event defeating Hunter Buettner, who broke out in the semi-final round. Donnie Burns would meet Soper in the final after running 4.222 (4.18) to defeat Carl Jennings in the other semi-final pair. Both drivers would have great RT's in the final round with Soper taking a small advantage .012 to .037, and at the finish line Soper would take the win with a 4.086 (4.01) to defeat Burns' 4.276 (4.18). This was Soper's first Sport 1 win of the season and second overall NSDA Sportsman 1 victory. Phil moved within three points of leader Clayton Record; however he only sits in third position. Hunter Buettner sits between them only one point behind Record in an extremely close points race.



Phil Soper

Sportsman 2

Carl Jennings dominated the Sportsman 2 in 2007 taking the championship by 27 points. Carl let Joey Weaver take over his dragster in Sportsman 2 at Yuma; however he was back behind the wheel at Soboba. Jennings would have a short day in Sportsman 2 though, as Bill Mitchell was able to defeat him in round one by a scant .003. Mitchell would continue on through eliminations and land in the final round after a semi-final bye run. The other side of the ladder saw Aaron Smith go .061 red handing Brandon Montgomery a trip to the final round in his Team Hardcore truck. In the Jeep vs. Truck final round, Montgomery ran a nearly dead-on 4.951 (4.95) to force Mitchell into a break out. After two races, Aaron Smith currently sits atop the Sportsman 2 standings with his Jeragsters dragster followed closely by second place Nick Young just 6 points behind.



Brandon Montgomery

MC Sportsman 1

Ryan Winkle made it to the final round of both MC 1 classes and scored a win in the MC Sport 1 category. Ryan received a round one bye run then met Christy Garnas in the final round, who would go .020 red giving Winkle the automatic victory. Ryan's win puts him atop the MC Sport 1 class with Ian Brown following in second place.



Ryan Winkle

MC Sportsman 2

2007 MC Sport 2 champ Randy Mings started off his 2008 season breezing through eliminations at Soboba. Mings moved on to the semi-final round where he would have a bye run into the final round. Randy would face the winner of a match up between Garrett Goorsky and Rob Winkle. Winkle would red light by .034 advancing Goorsky to the final round. In the final round, the champ Mings made an uncharacteristic mistake and went .132 red handing Goorsky the MC Sport 2 title. Rob Winkle enjoys a slim four point advantage over Pedro Villa Jr. as the NSDA series heads into its second 2008 trip to Yuma.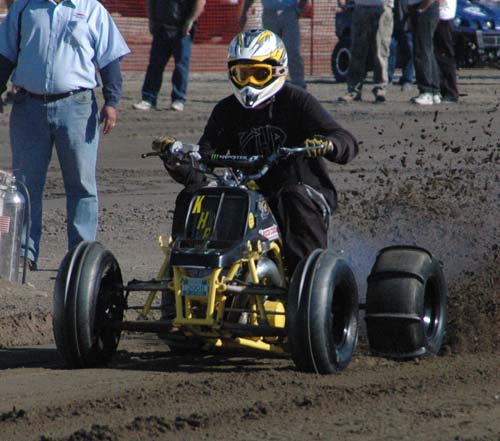 Garrett Goorsky

UTV

The UTV final round saw Gary Williams in his Rhino face off with Torco Race Fuels rep Don Clark in a Polaris RZR. Don had stellar lights all day, but a .235 red light would take him out in the final handing the win to Gary who had a .098 RT and 7.977 (8.15).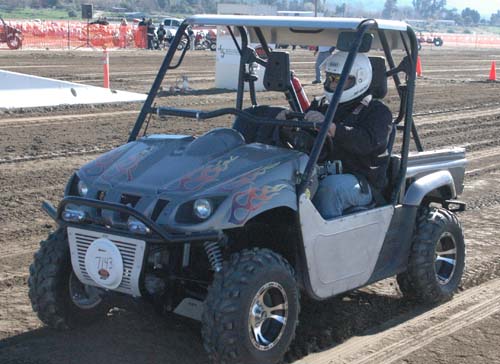 Gary Williams

Juniors

The final round in Junior Dragster saw brothers Aaron and Alan Mamer face off for the class win. This time it was older brother Aaron taking home the victory running closer to his dial with a 5.699 (5.655).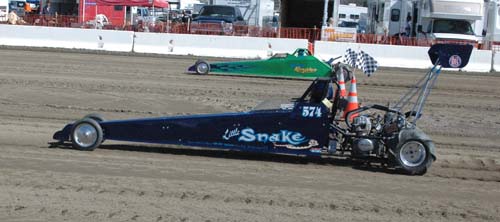 Aaron Mamer (Near Lane) vs. Alan Mamer (Far Lane) in the Junior Dragster Final Round.


Pro Bonus

Charlie Johnson made it back to the Pro Bonus final round after his runner-up finish at Yuma, but this time sealed the deal with a final round victory over Howard Sato by .019.


Charlie Johnson


Sport Bonus

The Sport Bonus final round saw Nick Young and Todd Kinney face off for the victory in the final round. Nick took a .081 to .130 advantage off the line and never looked back with a 4.922 (4.89) for the win.


Nick Young

*Photos courtesy C3 Productions – www.c3productions.net*