Race Recap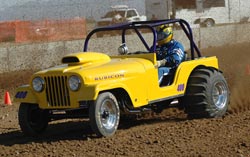 The Terrible's Primm Valley Resorts Spring Nationals turned out to be the largest ever race for the National Sand Drag Association with 451 entries competing at the race in Primm, Nevada. The influx of part-time racers made for some great competition and a mixing up of the NSDA point series battles. Mild temperatures and sun, with a windy Saturday mixed in, greeted everyone and made for a great weekend of racing. Let's move on to the recap of the weekend's racing action.
Top Fuel

The 2008 NSDA Top Fuel class has been dominated by Scott Whipple in the Canidae dragster. Scott has been the number one qualifier at every race, and only saw defeat in the final round at the March Yuma event when Dennis Rieck got past him. The Primm event started off with Scott's normal domination, running Low E.T. of every qualifying session and ending up in the top spot with a 2.372/156.55mph pass. Ten quality Top Fuel sand dragsters were in attendance, and Shane Switzer claimed the #2 qualifying spot with a 2.458/161.52mph run. Dennis Rieck made some soft qualifying passes with a best of 2.460, but everyone knew he was saving his best for race day. Jeff Janoe rounded out the top half of the field with a 2.529 while Pete Schenk ended up on the bump spot with a 2.665. John Cadzow and Terri Blair just barely missed the stout field.

Round one of eliminations started off with what would be the best TF battle of the day. A pair of Canidae-backed entries lined up when #1 qualifier Whipple faced off with Pete Schenk. The top qualifier edged out Schenk in an extremely close race on a hole shot 2.454/150.71 to 2.411/160.58. In the next pair, Jeff Janoe defeated a red lighting Charlie Brown with a 2.488/149.00mph. Rick Cameron would score a huge upset next running a 2.536 in defeat of #2 qualifier Shane Switzer. Finishing off the round, Dennis Rieck lowered a boom on the Top Fuel class with a Low E.T of the weekend 2.330/156.96mph in defeat of Matt Ludlow.

The semi-final round led off with Scott Whipple running 2.433/152.65mph to defeat Jeff Janoe's 2.590, which would advance Whipple to the final round for the fourth time in as many races this season. In the other pair of the round Rick Cameron left before the tree was activated giving the win to Dennis Rieck, who backed up his first round 2.33 with a 2.382/121.19mph. This set up a final round between the two racers that decided the 2007 NSDA Top Fuel championship. Rieck would take the starting line advantage .077 to .090, but he would start tossing scoops ruining his pass while Whipple streaked down the track with his best pass of the weekend 2.335/163.22mph for the victory. Whipple holds a 46 point lead over Rieck heading into the next race at Soboba.



Scott Whipple



Dennis Rieck



Rick Cameron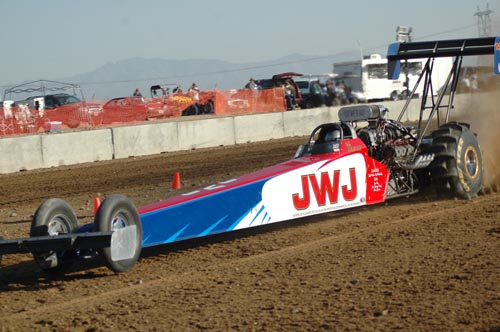 Jeff Janoe

Top Alcohol

There have been two big stories throughout the 2008 season in the Top Alcohol class season. The first was Dan Allen's awesome performance at the season opener in Yuma running a 2.411 and taking the season opening win. Since then the focus has been on Mike DeNunzio making it to every final this season with one win in February at Soboba. These two drivers would have contrasting weekends in Primm. Dan Allen started off the weekend holding the top qualifying spot after day one with a 2.583. In the third qualifying session Dan improved to a 2.567/140.93mph, however his race and season would take a sour turn as the car came out from under him in the shut down area and started rolling. Thankfully a well built race car, and top notch safety equipment allowed Dan to walk away from the crash. This would force Dan to withdraw from the event despite his 2.567 pass, which would be Low E.T of the Top Alcohol class for the weekend. With Allen's withdrawal, Mike DeNunzio popped up to the #1 qualifying spot with a 2.592/130.72mph. Third place points contender Gary Mink would end up in the second spot with a 2.613. Next was Rod Trower's 2.617, however engine damage would force him to withdraw from the event moving Shane Sanford to the third spot and Richard Montiel to the fourth position. The bump ended up being Carey Mahoney's 2.830.

Mike DeNunzio led off eliminations with Low E.T. of the first round with a 2.613/140.54mph in defeat of Carey Mahoney. David Morton ran a 2.81 to get by Richard Montiel. A 2.69 is what it took for Gary Mink to advance past Pat Goodale, who got way out of shape on his pass en route to a 3.027. 2007 NSDA TA Champ Shane Sanford ran a stout 2.659 in defeat of Oklahoma's Dee Trower to finish out the round.

The semi-final round started with Mike DeNunzio advancing to his fourth final round appearance of the year with a 2.617 to defeat David Morton's 2.743. DeNunzio would face Shane Sanford in the final round, who defeated Gary Mink in a great side-by-side race 2.602 to 2.618. The final round would see Sanford come out of his early season slump and take home his first win of 2008 with a 2.573/143.24 while DeNunzio wasted a 2.678 on a .021 red light. Sanford's win moved him up to third in the Top Alcohol point standings. Mike DeNunzio stays atop the points with a 21 point lead over Gary Mink with three races left in the 2008 NSDA season.



Shane Sanford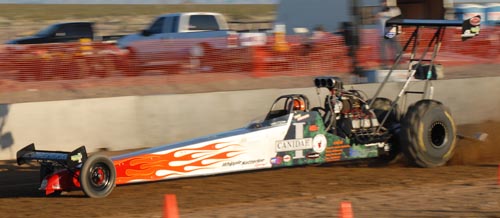 Mike DeNunzio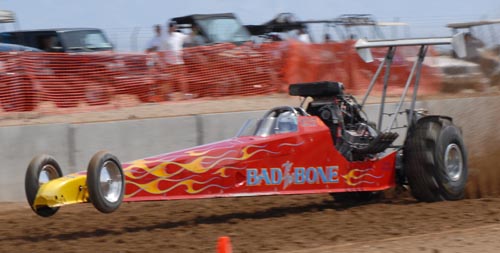 Gary Mink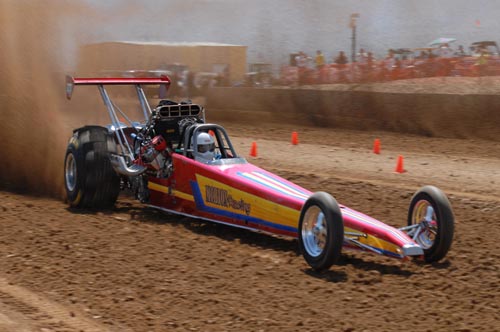 David Morton

Top Eliminator

Steve Hoffman has led the Top Eliminator class since the start of the season with two wins and one runner-up in the 2008 season. He would qualify well in Primm with a dead-on 2.950. You would think that would be fine for the number one spot, well that would be incorrect. Tim Martin ran a 2.95016 to edge out Hoffman's 2.95064 for the top qualifying spot. These were the first two 2.950 dead-on passes in NSDA Top Eliminator history. Paul Taylor ran a nice 2.956, and it was only good for the number three spot. To put into perspective how competitive the TE class was in Primm, Terry Crawford's 2.992 (.042 off the Index) was only good for the #7 qualifying position. 20 entries showed up to compete in Primm with the bump spot being Lori Ketron's 3.231.

The first round of Top Eliminator was the round of upsets. This was by far the most unpredictable round of NSDA competition thus far in the 2008 season. The #1 qualifier Tim Martin started off the round going down to defeat with a 2.871 break out against #16 qualifier Lori Ketron. The upsets continued with 2007 NSDA TE Champion DL King going .357 red taking him out of competition against Larry Snow. The biggest upset was yet to come. Don Diffenbaugh scored the biggest surprise victory of the round against the nearly unbeatable in 2008 TE point leader Steve Hoffman. Diffenbaugh had a psychic .008 RT to Hoffman's .110 and held on for a 3.225 to 3.146 hole shot win. With the top two qualifiers and defending class champion out of action after round one, the class was wide open on Sunday.

Starting off round two of Top Eliminator, John Keller edged out Lori Ketron's new Lucas Oil dragster by .007 at the finish line in an extremely tight race. Next up was Billy Morris, driving "2 Dolla' Bill" to a 3.094 win over Larry Snow. Don Diffenbaugh had another nearly perfect RT of .006 to defeat a red lighting Terry Crawford. Jeff Mamer ran a 3.140 to advance over #3 qualifier Paul Taylor.

Billy Morris advanced to his first TE final round with a 3.046 to 3.056 defeat of John Keller. This would set up a four cylinder vs. V8 final round as Jeff Mamer went 3.074 to get past Don Diffenbaugh. In the final round, Morris took a .097 to .104 starting line advantage, however a 2.834 break out would be greater than Mamer's 2.935 handing Mamer the win. Mamer moved within 16 points of Hoffman with his victory. Tim Martin sits third with Paul Taylor and DL King rounding out the top five.



Jeff Mamer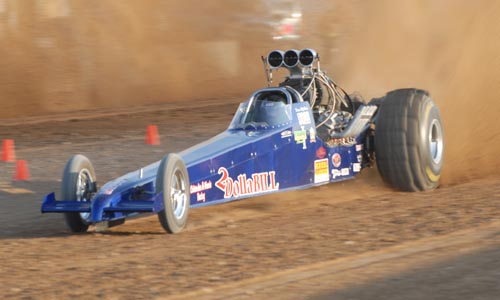 Billy Morris



John Keller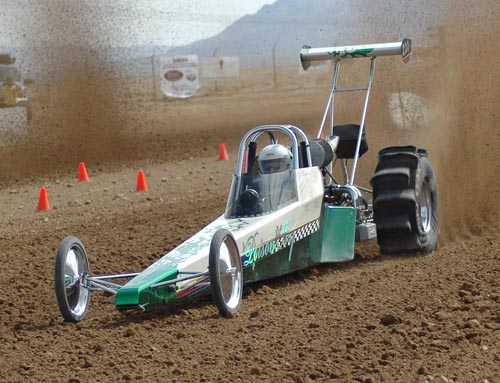 Don Diffenbaugh
Pro 1

An unpredictable 2008 season in the Pro 1 class moved on to Primm with three different winners in the first three races of the season. The point leader Mike Erwin came off a win at the previous NSDA event in Yuma. The Primm format saw Pro 1 race on Friday with no points at stake, while the Sunday race counted towards the point series.

Clayton Record ended up as the number one qualifier in Friday's race with a .025 light in his first round victory. The quarter-final round saw Clayton fall to #3 in points George Amos who ran a 3.729 (3.72). The next pair saw Allen Taylor run a 3.342 (3.34) in the "Krazy-T" to defeat Washington's Don Boespflug while Reed Taylor had a bye run. Reed went on to advance to the final in his Jeep after George Amos went .080 red. Allen Taylor had the bye into the final, where Reed would face off with him and lead start to finish for the win with a 3.744 (3.74) for a MOV of .030.

Sunday wouldn't go so well for all three of Friday's semi-finalists as they all went out in round one. Steve Foster had the best RT of round one; however he could not run the number and fell to Bob Childress. Point leader Mike Erwin extended his lead with his closest competition going out in the early rounds. Erwin advanced to the semi-final round against Tommy Zavala in the "Looney" dragster. Tommy took a .013 to .060 starting line advantage and forced the breakout on Erwin with a 3.722 (3.74). Tommy would face off with Don Boespflug and his Washington-based Jeep in the final round. Don was uncharacteristically late with a .135 on the tree, allowing Tommy to force Don under with a 3.423 breakout. Zavala moved into fourth in Pro 1 points, with only six points between him and second place Mike Gazzeny. Mike Erwin still holds on to a comfortable lead, 64 ahead of Gazzeny.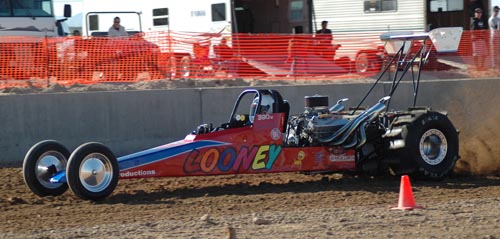 Tommy Zavala



Reed Taylor

Pro 2

Wes Johnson had pretty much dominated Pro 2 heading into Primm, holding a 42 point lead over Nick Schulzman. Friday's non-points race came down to Wes Gilmore having a bye run into the final round with his "Rattitude" Jeep and Yuma Pro 2 winner Phil Soper forcing a breakout on Don Boespflug to advance on. The final round saw Soper take a .024 to .049 advantage, however Gilmore's 4.215 (4.20) forced Soper under by .025 with a 4.075 (4.10) for the win.

Sunday was the day with all of the marbles on the line. Charlie Johnson started out eliminations with a great #1 qualifying effort with a .011 RT, giving him a second round bye. Charlie advanced on to face off with Tony DeNunzio in the semi-final round. Tony left first .043 to .053, but Charlie ran closer to the dial with a 4.246 (4.20) for the win. On the other side of the ladder, Soper was once again tearing through the competition advancing to the final in a double break out race against Charles Thompson. In the final round, Johnson was first off the line and ran 4.218 (4.18) for the victory over Soper. Both Johnson and Soper moved way up in the standings with point leader Wes Johnson going out in round one. Charlie's win ties him with his brother for the point lead with Soper only 13 behind in third place heading into Soboba.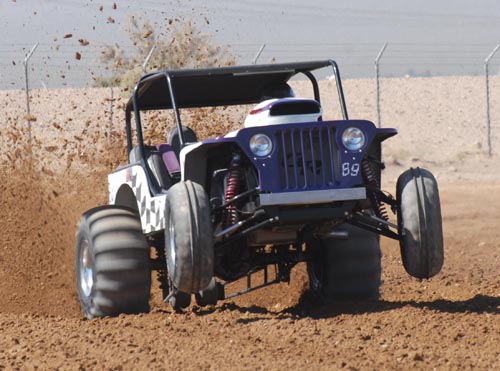 Charlie Johnson



Wes Gilmore

Pro 3

The Pro 3 class was headed by Charlie Johnson with a 40 point lead heading into the Primm weekend. Charlie moved through Friday's eliminations to reach the semi-finals, where he would match up with Brandon Montgomery. Montgomery had a big starting line advantage, but couldn't run the number giving the win to Johnson by .015 at the stripe. On the other side of the ladder, 2007 Pro 3 champ Grant Fraysier forced Gary Gebert into a .009 break out advancing the "Hummbler" to the final round. In the final, Charlie had a great .012 light, but ran way off his dial allowing Grant Fraysier to take the Pro 3 victory for Friday.

When the semi-final round came around on Sunday, point leader Johnson was still in the show looking at a semi-final match up with Jerry Peripoli who had moved up to second in points with Jose Beas' round one defeat. Peripoli took a .031 to .079 lead, however he would run further under his dial in a double breakout loss. The point leader would face Arend Schouten in the final round, who also survived a double breakout battle in the semi-final round. Johnson was going for a double win, as he had already taken the day's Pro 2 class victory. Schouten took a slim starting line advantage .048 to .055, and was able to hold on for the win as Johnson went too fast with a 4.411 (4.43). Johnson's runner-up finish gives him a 67 point lead over 2nd place Jerry Peripoli while Schouten's win moved him up to the fifth position.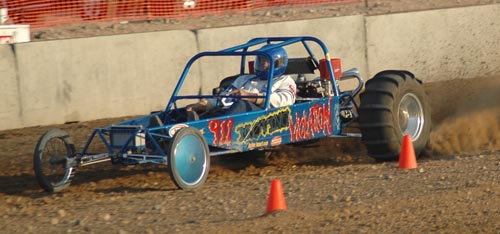 Arend Schouten



Grant Fraysier

MC Pro 1

The 2008 NSDA season has been a tough fight between Brad Olson and Ryan Winkle in the Motorcycle Pro 1 class. Brad led Ryan into Primm by 20 points. Friday's non-points race came down to Tom Hanrahan and Todd Clinton in the final round. Hanrahan had the RT advantage, however Clinton ran closer to the dial with a 4.512 (4.40) for the win.

Sunday's eliminations started off with some interesting action in round one. Second place point contender Ryan Winkle had a tough match up to start eliminations with 2007 MC Pro 1 champion Ian Brown. Ryan would go 4.094 (4.09) to squeak out a .002 Margin of Victory to advance to round two. Also, in round one point leader Brad Olson experienced problems and was unable to make his pass giving TJ Marchant the round win. Marchant moved on to the semi-final round where he had problems forcing him to bow out of eliminations giving Todd Clinton a single into a final round rematch from Friday against Tom Hanrahan. This time would be the opposite with Clinton having the better RT, but Hanrahan running closer to the dial taking the prestigious Primm victory. The battle for the point lead sees Olson holding a four point lead over Winkle heading into Soboba.



Todd Clinton
MC Pro 2

Rob Winkle held a 33 point lead over George Amos prior to NSDA's trip to Primm. Winkle sliced through eliminations to the final round of Friday's non-points race to face off with Shea Marlow. Marlow would break out with a 5.432 (5.50), advancing Winkle to the final round where he would race George Amos. The point leaders battled it out for the trophy and money in the non-points race with Rob Winkle running 4.866 (4.79) for the win.

Sunday's race saw the biggest MC Pro 2 class of the 2008 season with 29 entries. Both points contenders advanced to round two where they would face off with each other. Amos got his payback with the win after a big starting line advantage. Amos moved on to the semi-final round where he would line up with 2007 MC Pro 2 champion Randy Mings. Amos would red light away his chances by .122. A red light also decided the other semi-final match up when Jake Russell went .012 red against Shea Marlow. The 2007 champ Mings would take the RT advantage .057 to .234 and hold on for the victory over Marlow. Amos closed the gap to four points behind leader Rob Winkle. Shea Marlow sits third while Randy Mings still has a good shot at a repeat championship, sitting in fourth although he will move way up once the point total drops a race as he has already missed one event.



Rob Winkle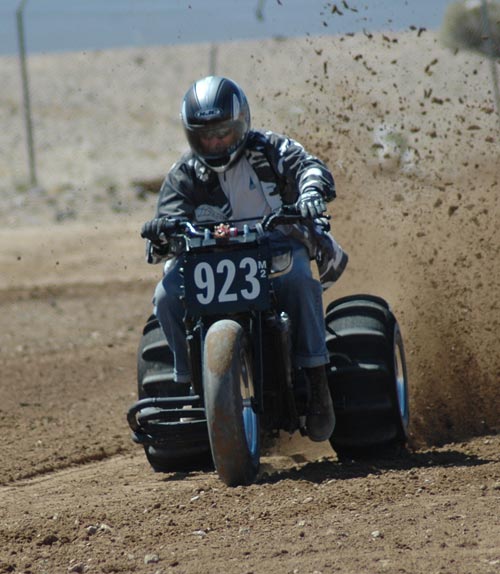 Randy Mings

Pro Mod

After three NSDA events, Mike Erwin and Clayton Record have asserted themselves as the contenders for the Pro Mod championship. In Primm, they would qualify 3-4 in the five car field meaning a round one match up. Erwin took .150 on the tree and didn't look back for a 3.660 to 3.647 victory. Erwin's win moved him on to face low qualifying Don Boespflug. Both Boespflug and Erwin had traction problems, but Don was able to take the win 3.664 to 3.822. This set up a Don Boespflug vs. Steve Foster final round. The final round was all Boespflug as he laid down low E.T. of the day with a 3.478 to take the victory. Erwin and Record still set 1-2 in the point standings.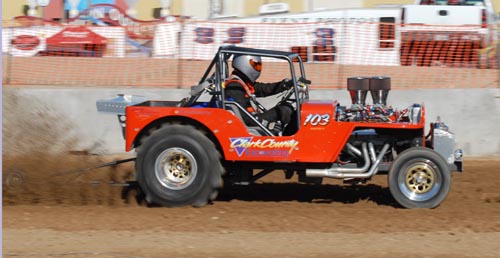 Don Boespflug

Pro Index

Charlie Johnson led the NSDA Pro Index championship standings heading into Primm over his brother, Wes. Low qualifier in Pro Index was Steve Foster with a 3.951 on the 3.95 Index giving him a round one bye run. Round one would be a tough round for the Johnson brothers as both were defeated opening the door for someone else to move up into the point battle. In the first semi-final match up, Mike Erwin took a .002 MOV over Mike Bolton to advance to the final. On the other side of the ladder, Jose Beas went .072 red giving Jeff Adamson the win. In the final round, Erwin was first off the line .145 to .201 and held on for a 4.051 to 4.116. Erwin's' win moved him up to third place in points, only 11 behind point leader Charlie Johnson.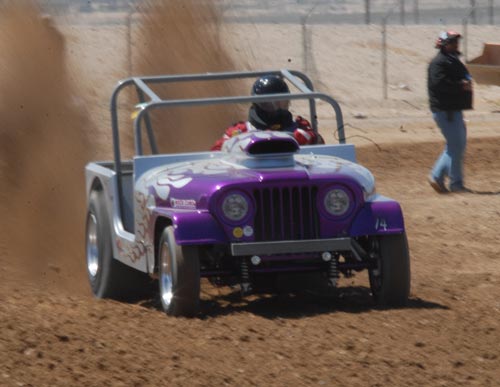 Mike Erwin

Sportsman 1

Sportsman 1 is always entertaining, and it once again didn't disappoint in Primm. Point leader Phil Soper went out in round one, giving the opportunity for a new winner in 2008. Nick Schulzman advanced to the final round after defeating Tom Gulia, were he would face Brian Root who got by Ashley Sanford. In the final round, Root gave it away on the line with a .109 red light handing the win to Schulzman. Soper holds a 17 point lead over Hunter Buettner as the NSDA series heads to Soboba in May.



Nick Schulzman

Sportsman 2

The Sport 2 class has been wide open all year, and its unpredictability continued in Primm. Point leader Aaron Smith went red by .054 against Clint Lamb taking him out of the race. Second place point contender Arend Schouten moved on to round two where Lamb continued knocking the point leaders out of the race. April Elliott went .049 and 4.524 (4.50) to advance to the final round defeating Justin Taylor. The other side of the ladder saw Nick Young's .018 RT and 4.941 (4.89) defeat Fran McKinney. In the final, Young threw his shot away with a .011 red handing April Elliott the Sport 2 victory. Smith has a 20 point lead over Schouten with another 19 points back to third place Young.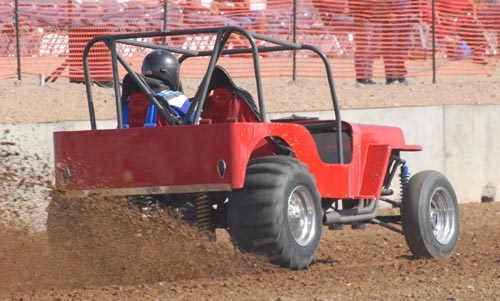 April Elliott

MC Sportsman 1

Ryan Winkle has gotten out to a huge early season lead. He'll be very hard to catch as the season goes on, especially after continuing his great season in Primm. Winkle had the bye run into the final round where he would face off with Christy Garnas, who defeated a red lighting TJ Marchant. In the final, Christy cut the tree down with a .007 RT and 4.092 (4.05) to win the event over the point leader.

MC Sportsman 2

This season Rob Winkle and Shea Marlow have been the dominant forces in MC Sport 2 in 2008. Those two slashed through eliminations, and met up in the final round. Marlow took a large starting line advantage .038 to .109, but Winkle ran 4.911 (4.89) to drive around Marlow by .048 at the stripe. Winkle now has a 12 point lead over Marlow for the MC Sport 2 championship.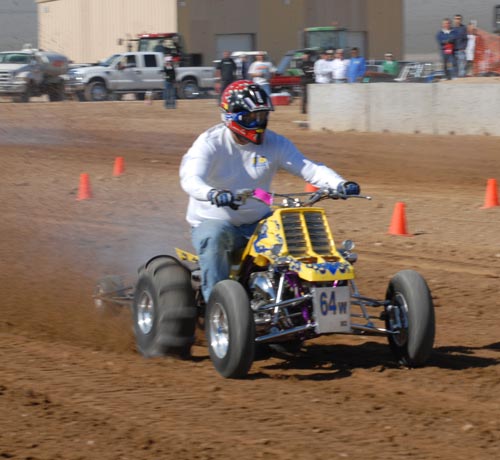 Rob Winkle

Juniors

The final round of Junior Dragster saw Kody Hoffman cut a great .054 RT and run 5.992 (5.95) for the win over Aaron Mamer. Mamer extended his point lead with his runner-up finish.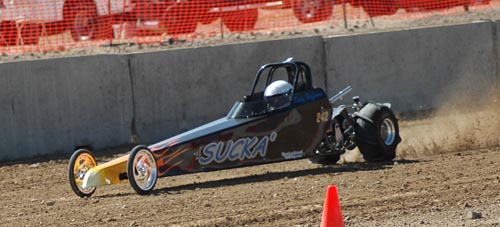 Kody Hoffman

*Photos courtesy C3 Productions – www.c3productions.net*