BY: ISAAC DEHAAN
Wow, can anyone believe it is August already? We just got a letter in the mail last week with all of Dylan's school books listed in it, 4 weeks and 1 day until the start of first grade for him. It seems that the summer just got going a couple weeks ago, and now its time for school to start up again. Here in the Midwest, the start of school signifies the beginning of the end, so to speak, of the sand drag season here. It also means the sand drag scene in the south west will be getting cranked up again as the cooler temps of the fall come around .Don't get me wrong, there is still plenty of racing to be had before the Midwest season takes its cold weather break, but the opportunities to race are going to get a little thin between now and the end of October.
With the US Sand Nationals in the books, the WMSD race schedule looks like this; Aug 9th Sportsman Extravaganza with extra $$ up for the sportsman classes that night, Aug 23rd, Aug 30th&31st the Labor day race along with the Big Bud Shootout, Top Gun Eliminator, Buggy Brawl and regular points race, Sept 13th and Sept 27th, with the final race of the season on Oct 4th. The annual EC4WD happening, Gravelrama will take place Aug 21st thru Aug 25th, with the usual hill drags, flat drags, Big Eliminator and obstacle course competition. The new Ionia Sand Drags track will hold its first event Sept 12th & 13th and with lots of interest is looking to be a big race for these parts. Depending on how much you feel like traveling, or more likely, how much traveling your wallet can handle, there is some really good racing to be had before the snow flies around here.

With gas and fuel coming down in price a little bit the last 2 weeks or so, Dylan, my dad, and myself decided to get out, do a little racing ourselves and at the same time visit a track none of us had been to yet. (In case you are wondering, with my dad and me working at WMSD it's almost impossible to race at there unless we are not working at that particular race.) Green's Race Track, or Mid Michigan Trail Runners, is located just north and east of Lansing, near Owosso. I used MSN maps to get there, and I think I'll use Mapquest next time and see if it takes me a different way, MSN sent us down too much gravel road for my taste. The track itself is located on the back of Jerry Green's property and has a great setting. There are a decent amount of trees and the pit area is all nice grass. The staging lanes are shaded very well, and spectators sit close to the track and on the same side of the pit area. The track has a pavilion built with picnic tables underneath, and a small concession stand with hot dogs, pop and candy. We found everything to be very laid back, and it made us feel very at ease even though we didn't really know anyone there. The only people we remotely knew were Joe, Lisa and Kyle Herr, who make a few races at WMSD every summer and they went out of their way to make us feel at home. The day went like this:

9-11am Open Time Trials, as many as you can or want to make in that time period.
11am-1pm Time Trials, 2 per vehicle/competitor.
12:30pm-1:15pm Dial-Ins
1:30pm Drivers Meeting
1:45pm Eliminations start

Something about Greens I liked is its double elimination format. They run 2 classes, Super Mod and Modified; along with a Junior class. The Super Mod dial-ins ranged from 3.90 to 5.75, while the Modified class was 5.80 and up. The classes are divided right down the middle with equal amounts of cars in each class. One thing that was different than I was used to was being double elimination they run each class all the way out until they have 1st and 2nd place, then they do the same with the next class. After 1st and 2nd are decided in each class, they start the class again and race down to 2 cars which are 3rd and 4th place respectively. After all that is finished, they run the Super Mod winner against the Modified class winner for Top Eliminator for the day. I took 2nd in Super Mod, which took me 4 rounds. After the 3rd round I needed a tow, because I just could not cool down fast enough driving back to staging. Good news was, after the final round, I was done for the night, so at 3 PM I was loaded and ready to go home so I could sit, relax and, watch the rest of the racing for the night. My dad was not quite as fortunate, as he red lighted in his first round of Super Mod and broke out in the first round of the runner-up race. He was super happy though as he ran a 5.26 on the breakout, the quickest pass he has ever made in his bronco. Dylan was one of three Junior racers, with the other two kids double entered in the same go kart. It was decided that the fairest way would be for Dylan to race each of the other kids and see what happened. He beat them both, so he took first for the Junior class. I don't know who beat me in the Super Mod class final, but I do know Nyle Weaver took the Modified class and Top Eliminator in a street legal Rhino!!

Overall we had a great time. Spectators are FREE, its $20 to race, plus $15 to enter the points fund once a year. Juniors are $10 to race so for Dylan and myself it was $45 to race, and we each got nice trophies at the end plus $20 for my 2nd place finish, so net it was $25 for us to race. It took me about $80 in fuel and snacks to get there, so for just over $100 we had a great time. Honestly, it really reminded me why I love to go racing, and it was lots of fun with no pressure all day. One thing to remember if you go, Greens has no lights, so they can only race until it gets close to dark, but no worries about that. We were completely done racing by 5:30 PM, and I would estimate about 45-50 cars were in attendance, with some rides like the Tin Man, the Munchkin, Grounds for Divorce, Fuzz Nut and a Mustang I recognized from Gravelrama footage I have seen. The track surface is mostly dirt and clay with some real bite in it. The staff did a great job keeping the dust down and watering with the water truck all day.

That's all I have for this time, we are going to try and get out at least 2 more times this summer, so you never know where we might pop up!! Until next time, See you in the Staging Lanes!!

Isaac DeHaan (This email address is being protected from spambots. You need JavaScript enabled to view it.)

Green's Pics



Isaac, Dylan, and Mallori with the trophies.



Mike DeHaan's Bronco.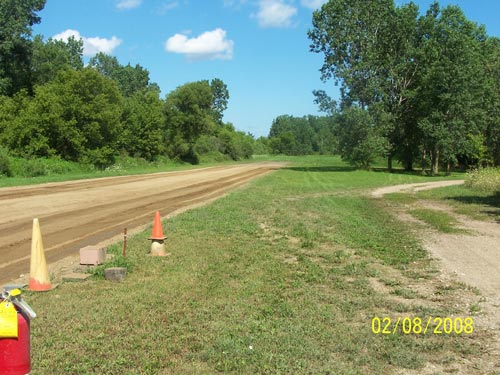 Green's from the finish line through the shut down area.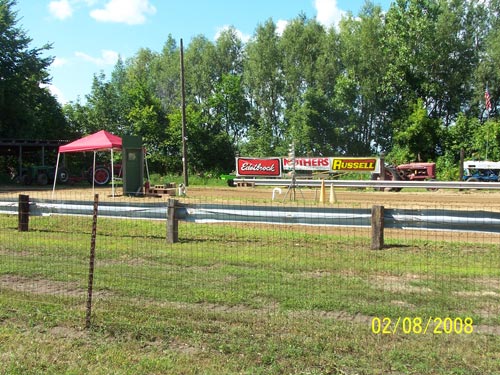 Green's starting line.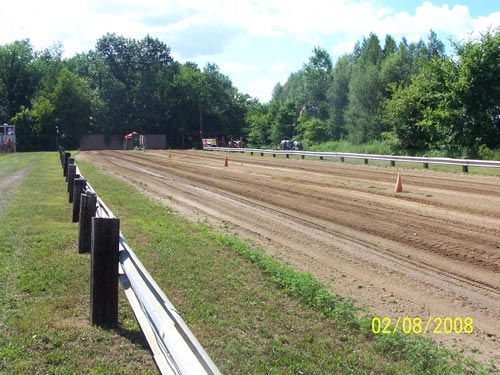 Green's race track from the finish line looking back at the start.