Presented By:
Saturday


The 2009 season for the Pro Truck Nationals began with an exceptional day of racing in Cleves, OH. Casey Kellough waded through a tough 21-truck field to take the Pro Truck class victory over Dave Kramer in his "Super Toy" Jeep. Terry Wies laid down a nice 3.49 in the final round to win the Fastest 4WD class over Josh Stephens, driving John Dreher's car. Pro ATV was an all-Shocker Racing final round with dad Steve Ewing defeating son Matt. Other winners on the day were Curtis Combs (Bracket 1), Chad Hill (Bracket 2), Matt Willis (ATV), Dustin Smith (Juniors), Jacob Rouse (Peewees).


Update: Video now online, Click "Read More" for links.
Video

Pro Truck Eliminations Video
Final Rounds Video

(ALL Classes)
Bad Frog Video
Various Video Clips

Pro Truck

1st-Casey Kellough
2nd-Dave Kramer
3rd-Mike Bolyard

Qualifying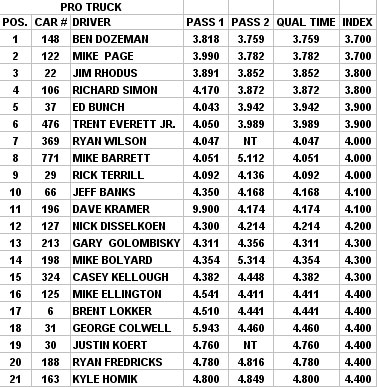 Eliminations Ladder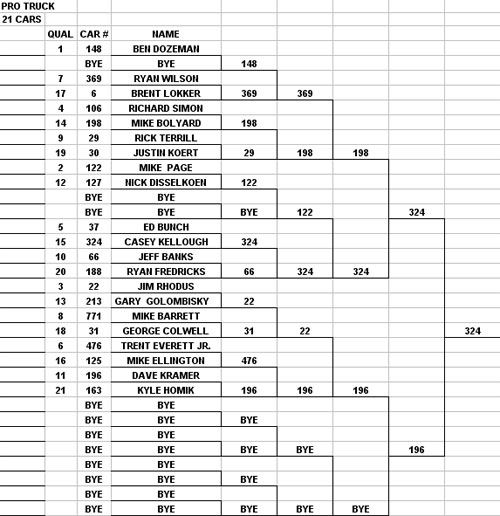 Fastest 4WD
1st-Terry Wies
2nd-Josh Stephens

Pro ATV
1st-Steve Ewing
2nd-Matt Ewing

Bracket 1
1st-Curtis Combs
2nd-Brent Lokker

Bracket 2
1st-Chad Hill
2nd-Keith Mantra

ATV
1st-Matt Willis
2nd-Steve Ewing

Juniors
1st-Dustin Smith
2nd-Luke Roberts

Peewees
1st-Jacob Rouse
2nd-Cody Morehead

Friday


An awesome first day of racing started off the 2009 Pro Truck Nationals series in Cleves, OH. The highlight class of the evening was the 3.50 Index group, which was won by Ben Dozeman. Dozeman defeated John Dreher by a margin of victory of just .004 in the Michigan versus Missouri final round. The 3.5 class had awesome racing action from start to finish. The Grudge Matches that were hyped heavily on the forums were also a big part of the evening. Dozeman took his Bad Company Jeep to the win in the Supercharged Jeep race over Jay Steele 3.69 to 3.83. Matt "Shocker" Ewing defeated Brian McWethy in their ATV match up 3.98 to 4.14. Last but not least, Trent Everett Jr. topped the 17 entries in the pit vehicle race to take home the win in an all-Michigan final round over Steve Bobeldyk. Racing action starts Saturday morning, check with our live updates throughout the day for the latest.

3.50 Index

1st-Ben Dozeman
2nd-John Dreher
3rd-Kathy Ellington
3rd-Ben Steele

Round One Eliminations (Driver ET RT)
Ben Dozeman (W) 3.692/87.92 .132 def. Mike Page 3.670/91.63 .189
Ben Steele (W) 3.780/82.19 .124 def. Trent Everett Jr. 3.881/82.60 .031
Kathy Ellington (W) 3.745/84.46 .062 def. Rich Simon 4.035/87.41 .093
John Dreher (W) 4.393/50.23 .065 Bye

Round Two Eliminations
Ben Dozeman (W) 3.705/87.77 .044 def. Ben Steele 3.747/82.92 .124
John Dreher (W) 3.734/83.24 .072 def. Kathy Ellington 3.781/79.58 .230

Final Round Eliminations
Ben Dozeman (W) 3.779/87.67 .024 def. John Dreher 3.755/83.80 .053 < .004 MOV

3.5 Index Class Video

Grudge Match Results
Ben Dozeman (W) 3.692/88.12 .062 def. Jay Steele 3.833/86.11 .084
Matt Ewing (W) 3.988/78.70 .182 def. Brian McWethy 4.145/81.21 .127

Grudge Match Video

Pit Vehicle
1st-Trent Everett Jr.
2nd-Steve Bobeldyk

Test and Tune Notes
- Nick Disselkoen ran Low ET of the day in the Compromised truck with a 3.39.
- Kathy Ellington ran a best of 3.501 on the day.
- Josh Stephens in the Blown Income car had drive shaft problems on his only attempt today. He will be competing in the Fastest 4WD Shootout.

Preview

The next stop for
National Sand Drag News is the 2009 Season Opener for the Pro Truck Nationals series at the IOK 4 Wheelers' facility in Cleves, OH May 15-16. NSDN will have Daily Race Coverage from this event with results, news, and videos each night after racing action is complete. Also, check out the left side bar under the main menu for live updates from the event. This NSDN Daily Race Coverage is brought to you by the Pro Truck Nationals Series and Richard's Auto Parts. Racing action kicks off on Friday May 15 with the 3.50 Index class eliminations and featured Grudge Matches, including the Supercharged Jeep Grudge Match. For any questions throughout the race weekend or to inquire about future Daily Race Coverage sponsorship opportunities, e-mail

This email address is being protected from spambots. You need JavaScript enabled to view it.

.