Presented By:


Saturday


The Inaugural Show-Me Pro Truck Nationals finished up on Saturday with some great racing action in front of a packed house at Big River Sand Drags in Bonne Terre, MO. Rich Simon scored the night's big win taking the Pro Truck class win over Compromised Racing's Steve Bobeldyk in the final round. The Fastest 4WD Shootout saw an all-Missouri final round with Jeff Richardson taking the victory over Jamie Hutchins in a close 3.55-3.59 race. Taking home the $1000 to win Competition Eliminator bracket class was JR Dreher over a red lighting Steve Barton. Read on for results from the remainder of the classes. We will have video online soon.
Video

Pro Truck Eliminations
Fastest 4WD Shootout Eliminations
3.5 Index Eliminations (Starting at Round 2)

Pro Truck

1st-Rich Simon
2nd-Steve Bobeldyk
3rd-Mike Ellington
3rd-Ryan Poortenga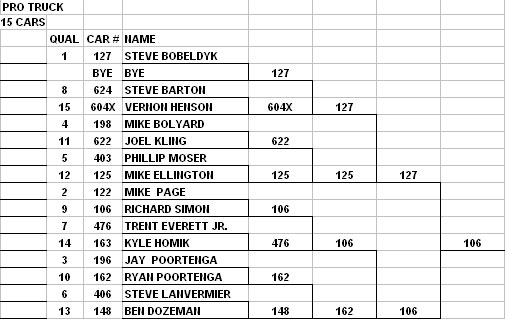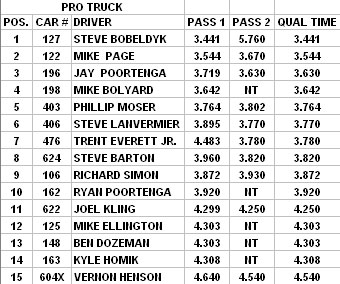 Fastest 4WD
1st-Jeff Richardson
2nd-Jamie Hutchins
3rd-Ryan Wilson

Round One Eliminations
Jamie Hutchins (W) 3.51 def. Phillip Moser 3.61
Jeff Richardson (W) 3.50 def. Dan Wies 3.57 RL
Ryan Wilson (W) 3.58 def. JR Dreher 3.64

Round Two Eliminations
Jamie Hutchins (W) 3.52 def. Ryan Wilson 3.66
Jeff Richardson (W) Bye

Final Round
Jeff Richardson (W) 3.55 def. Jamie Hutchins 3.59

Competition Eliminator
1st-JR Dreher
2nd-Steve Barton
3rd-James Casteel
3rd-Ross Abraham

Pro Index
1st-William Sutton
2nd-Trent Everett
3rd-Justin Dees
3rd-Ryan Poortenga

Heads Up ATV
1st-Kevin Betzer Jr.

Pro ATV
1st-Josh Kling

Unlimited ATV
1st-Chris Schmidt
2nd-Jake Self

Super Pro ATV
1st-Luke Dailey

Vehicle ET
1st-Phillip Beard
2nd-James Henderson

Juniors
1st-Courtney Kling
2nd-Skylar Barker
TOP-Skylar Barker

Friday


Race 2 of the 2009 Pro Truck Nationals series kicked off on Friday in Bonne Terre, MO at Big River Sand Drags. Ben Dozeman was the big winner on the night, making it back-to-back wins in 3.5 Index class action. Dozeman, from Michigan, defeated Kentucky's Ryan Wilson in the final round. Friday's action also saw a strong ATV Index class with Art Gordon defeating Kevin Betzer in the final round. The night's Grudge Match was scrapped when Josh Stephens suffered major driveline damage on a test pass earlier in the day. Scott Scheytt came out anyways and ran a nice 2.874/113.64mph pass. Time trial action starts early in the afternoon on Saturday. Stay tuned to NSDN for all the latest.

3.5 Index Class

Semi Final Eliminations

Ryan Wilson (W) 3.529 .105 def. Kathy Ellington 3.647 .008
Ben Dozeman (W) 3.567 .060 def. Jay Poortenga 3.546 .091

Final Round Eliminations
Ben Dozeman (W) 3.581 .066 def. Ryan Wilson 3.801 .058

Results
1st-Ben Dozeman
2nd-Ryan Wilson
3rd-Kathy Ellington
3rd-Jay Poortenga

Eliminations Results Sheet

ATV Index

Results
1st-Art Gordon
2nd-Kevin Betzer
3rd-Kevin Betzer Jr.

Test and Tune Notes
- Many of the Michigan racers were recording best ever ET's during Friday's Test and Tune.
- Mike Page ran a 3.53 with his Blazer.
- Rich Simon ran a great 3.56 in his truck, another personal best.
- Ben Dozeman laid down a 3.51 best in his Bad Company Jeep in semi-final round 3.5 Index action.
- Jon Sorg debuted his new V8 dragster and ran a best of 3.36@103mph.
- Trent Everett ran a personal best of 3.65 in his Jeep.
- Big wheel stands happened pretty regularly; Dan Wies had a wheelie bar bending wheel stand in round two of the 3.5 Class, Jeff Richardson of Missouri had two wild wheel stands on a test and tune pass, and Ryan Wilson had the front end way up there on his final round 3.5 pass against Ben Dozeman.
- The Missouri contingent laid down some impressive times on Friday; Eric Gallay's Jeep with Jamie Hutchins driving ran a best of 3.52 with his Blown Jeep while Jeff Richardson ran a 3.58 best with his white Altered.
Preview

The 2009 Pro Truck Nationals series continues on to their second event of the season, this time at Big River Sand Drags in Bonne Terre, MO June 12-13. NSDN will have Daily Race Coverage from this event with results, news, and videos each night after racing action is complete. Also, check out the left side bar under the main menu for live updates from the event. This NSDN Daily Race Coverage is brought to you by the Pro Truck Nationals Series and Richard's Auto Parts. Racing action kicks off on Friday June 12 with the 3.50 Index class eliminations and featured Grudge Match between Scott Scheytt's Bad Frog TA Dragster and Josh Stephens' "Blown Income" 4WD Blown Altered. For any questions throughout the race weekend or to inquire about future Daily Race Coverage sponsorship opportunities, e-mail

This email address is being protected from spambots. You need JavaScript enabled to view it.

.