Presented By:


Saturday


Ionia Sand Drags played host to some great racing action at the third stop of the 2009 Pro Truck Nationals series. Jay Poortenga was the big winner in the Pro Truck class. Jay defeated Mike Page in the final round when Mike was disqualified for going out of bounds. The points chase will be extremely tight heading into the season finale next weekend. Pat Goodale set a new track record at Ionia with a 2.485 in Top Alcohol qualifying, then went on to defeat Rod Trower for the Top Alcohol Shootout victory. Burt VanBennekom was the Top Eliminator winner defeating Brian Ambs. Read on for more results. * Eliminations Sheets and video links now posted. *
Pro Truck

1st-Jay Poortenga
2nd-Mike Page
3rd-Brent Lokker
Eliminations Sheet
PT Eliminations Video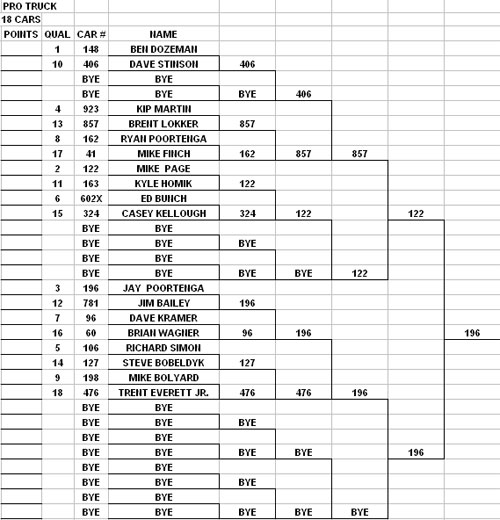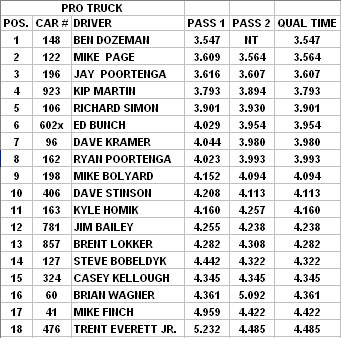 Fastest 4WD
1st-Ryan Wilson

Top Alcohol
1st-Pat Goodale
2nd-Rod Trower
3rd-Rob Scheytt
Eliminations Sheet
TA Saturday Video

Top Eliminator
1st-Burt VanBennekom
2nd-Brian Ambs
3rd-Bob Gill
TE Saturday Video

Quick 8
1st-Ed Engel
2nd-Keith Ahart
3rd-Mike Bolyard
3rd-Bob Gill

Pro 1
1st-Tim Holstege
2nd-Brent Lokker
3rd-Mark Groenink
3rd-Trent Everett Jr.
Eliminations Sheet

Pro ATV
1st-Rich Wood
2nd-Hopper McKerrnan
3rd-Matt Willis

Sportsman Car
1st-Andy Villemure
2nd-Frank Stover
3rd-Ross Abraham
Eliminations Sheet

ATV
1st-Rich Wood
2nd-Chad Louth
3rd-Jake Phaff
Eliminations Sheet

Juniors
1st-Tristan Simon
2nd-BT Pyper
3rd-Angie Lirones
3rd-Kelsey Ambs

Mighty Midgets
1st-Bennet Dozeman
2nd-Ethan Tripp
3rd-Tyler Watkins

Top Alcohol
Final Qualifying Order
1. Pat Goodale 2.485/145.06
2. Rob Scheytt 2.513/134.21
3. Rod Trower 2.593/137.28
4. Jay Poortenga 2.703/121.97
5. Bob Piunti 2.815/120.88
6. Scott Scheytt 2.843/118.99

Top Eliminator
Final Qualifying Order
1. Dee Trower 2.960
2. Bob Gill 3.032
3. Brian Ambs 3.082
4. Burt VanBennekom 3.182

Quick 8
Final Qualifying Order
1. Bob Gill 3.007
2. Frank Martuscelli 3.331
3. Jim Bailey 3.368
4. Ed Engel 3.370
5. Wilie Berzley 3.373
6. Keith Ahart 3.447
7. Jay Poortenga 3.451
8. Mike Bolyard 3.571

Friday


The Pro Truck Nationals series started off the weekend at their third stop of the 2009 season in Ionia, MI. This event at Ionia Sand Drags features the PTN series as well as a Top Alcohol Shootout. After one qualifying session, Pat Goodale sets atop the Top Alcohol Shootout qualifying list with a 2.566 ET. In Friday night race action, Ben Dozeman remained unbeaten in PTN 3.5 Index race action in 2009 with his third straight win. Ben defeated Matt Peel in a close final round race. Race action kicks off in the morning for the final day of action from Ionia.

3.5 Index Class

Results
1st-Ben Dozeman
2nd-Matt Peel
3rd-Trent Everett Jr.

Eliminations Sheet
3.5 Index Eliminations Video

Top Alcohol
Qualifying Order (After one session)
1. Pat Goodale 2.566/137.46
2. Rod Trower 2.593/135.28
3. Jay Poortenga 2.868/129.62
4. Scott Scheytt 2.988/113.44
There are two other TA cars on the grounds as Rob Scheytt and Bob Piunti both did not make passes in the first session.
Top Alcohol Qualifying Round Video

Top Eliminator
Qualifying Order (After one session)
1. Brian Ambs 3.114
2. Bob Gill 3.622
3. Dee Trower 2.900
4. Lori Goodale NT
Top Eliminator Qualifying Round Video

Misc. Friday T&T Video

Preview

The 2009 Pro Truck Nationals series heads into the final swing of its 2009 season with the third race of the season July 17-18 at Ionia Sand Drags in Ionia, MI. NSDN will have Daily Race Coverage from this event with results, news, and videos each night after racing action is complete. We will also have our live updates from the track on the left side bar under the main menu. This NSDN Daily Race Coverage is brought to you by the Pro Truck Nationals Series, Ionia Sand Drags , and Richard's Auto Parts. Racing action kicks off on Friday June 12 with the 3.50 Index class eliminations two featured Grudge Matches, and a Top Alcohol qualifying session. For any questions throughout the race weekend or to inquire about future Daily Race Coverage sponsorship opportunities, e-mail

This email address is being protected from spambots. You need JavaScript enabled to view it.

.