Presented By:
Sunday


The 40th Anniversary Las Vegas Jeep Jamboree at the Dumont Dunes finished up on Sunday with the always exciting Sand Drag competition. Dave Stidham took two big wins on the day with his Grinch Jeep. Dave was the winner of both the Pro Drag & X600 categories. Bruce Taylor left a little too soon in the Pro Drag final with his Blown Jeep, but ran Low ET of the event & put on a great show for the crowd each round. Other big winners include Ken Allen (X600 Trucks), Jon Kendig (Duner Jeep), David Den Hartog (X400 Jeeps), and Joe Simeone (X200 Jeeps). *Check back soon for Videos & Ladders from this event.*
Sand Drag Results
Pro Drag
1st-Dave Stidham
2nd-Bruce Taylor
Pro Drag Semi-Finals & Final Round Video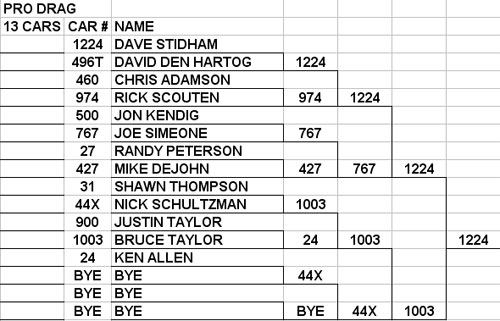 X600 Jeeps
1st-Dave Stidham
2nd-Nick Shultzman
X600 Semi-Finals & Final Round Video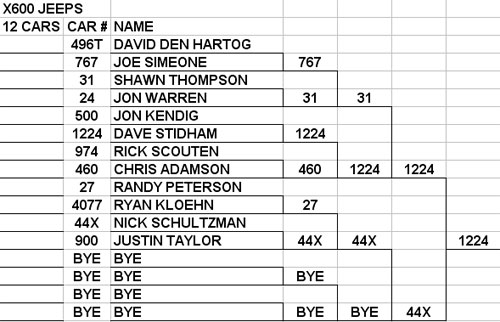 X600 Trucks
1st-Ken Allen
2nd-Brad Mendrick

X500 Jeeps
1st-Jon Warren

X500 Trucks
1st-Mike DeJohn
2nd-Ken Allen

XDuner
1st-Jon Kendig
2nd-Steve Gurshke
XDuner Final Round Video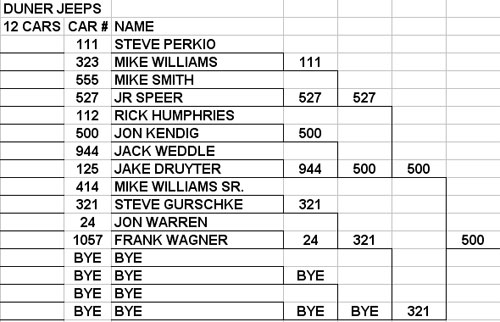 X400 Jeeps
1st-David Den Hartog
2nd-Joe Simeone
X400 Jeeps Semi-Finals & Final Round Video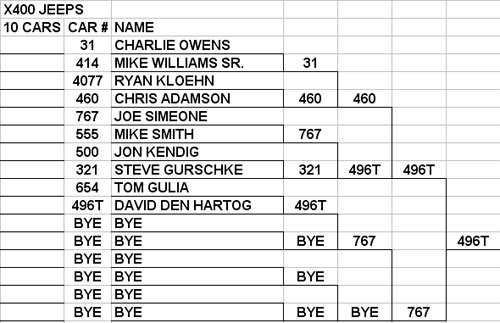 X400 Trucks
1st-Brad Mendrick

X300 Jeeps
1st-Frank Wagner
2nd-Mike Williams

X200 Jeeps
1st-Joe Simeone
2nd-Charlie Owens
X200 Jeeps Final Round Video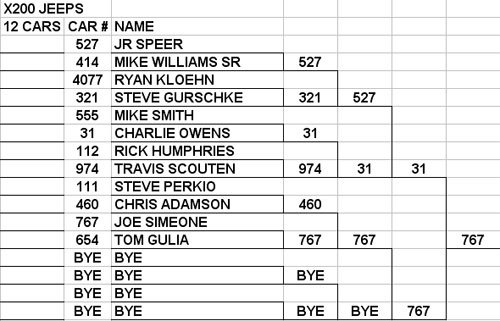 A Jeeps
1st-Frank Wagner
2nd-Jon Warren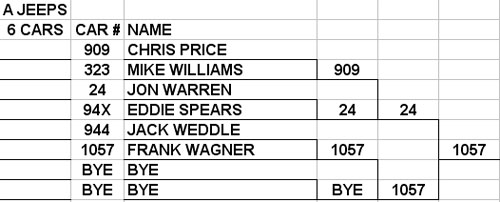 B Jeeps
1st-Mike Stone Sr.

G Jeeps
1st-Ben Decker

K Jeep
1st-Lola Warner

K Truck
1st-Charles Fickes

UTV Modified
1st-Debbie Gilmore
2nd-Cole Warren

UTV Stock
1st-Wendy Thompson
2nd-Jimmy Riddle


Women
X600 Jeeps
1st-Wendy Thompson

X400 Jeeps
1st-Wendy Thompson

X200 Jeeps
1st-Wendy Thompson

Best Engineered: Jon Kendig (Instigator Jeep)
Best Appearing: Mike DeJohn
Hard Luck: Wes Gilmore
Fool's Award: Randy Pearson
Long Distance: Ed & Lola Warner (1400+ Miles, Oklahoma)

Saturday


Chris Adamson was the big winner on Saturday at the 40th Anniversary of the Las Vegas Jeep Club Jamboree with his Bounty Hunter Jeep. Adamson took two first place victories in the Hill Climb competition, winning the X600 (Unlimited Jeep) & X400 (2WD Big Block or Smaller Jeep) classes. Those classes ended differently as the X600 champion was decided by a series of side by side races up the hill, while the X400 champion was determined by the "Turtle Crawl", where the last vehicle moving with forward momentum up the hill wins. Jon Warren was also a big winner in the Raspberry Thunder Jeep as he took the X500 (4WD Big Block or Smaller Jeep) & A (Modified Jeep) classes. The sand drag competition will kick off on Sunday morning.

X600 Jeeps
1st-Chris Adamson
2nd-Jon Kendig
3rd-JR Speer
Final Rounds Video (Quarter Finals Through Finals) Side By Side Hill Drag

X600 Trucks
1st-Brad Mendrick

X500 Jeeps
1st-Jon Warren
2nd-Chris Price
Final Round Video (Turtle Crawl Final)

X400 Jeeps
1st-Chris Adamson
2nd-Steve Perkio
Final Round Video (Turtle Crawl Final)

X400 Trucks
1st-Brad Mendrick

X300 Jeeps
1st-Chris Price
2nd-Jack Weddle

X200 Jeeps
1st-Joe Simeone
2nd-Clark Harris
Final Round Video (Turtle Crawl Final)


A Jeeps
1st-Jon Warren
2nd-Chris Price

B Jeeps
1st-Eddie Spears
2nd-Doug Thompson

UTV Modified
1st-Cole Warren

UTV Stock
1st-Dave Stidham
2nd-Charlie Owens

Women
X600 Jeeps
1st-Wendy Thompson

X400 Jeeps
1st-Wendy Thompson

X200 Jeeps
1st-Wendy Thompson
2nd-Michelle Serrano

Preview

NSDN is heading to the Dumont Dunes for the first time to capture the 2012 40th Anniversary Las Vegas Jeep Club Jamboree February 18-19. We will have results, news, and videos each night after racing action is complete from this unique event. Also, keep an eye on the "Race Updates" live update side bar on the left side of the main page for updates from the event as it happens. This NSDN Daily Race Coverage is brought to you by the Las Vegas Jeep Club. Racing action kicks off on Saturday with the Hill Climb event followed by the Sand Drags on Sunday. For any questions throughout the race weekend or to inquire about future Daily Race Coverage sponsorship opportunities, e-mail

This email address is being protected from spambots. You need JavaScript enabled to view it.

.